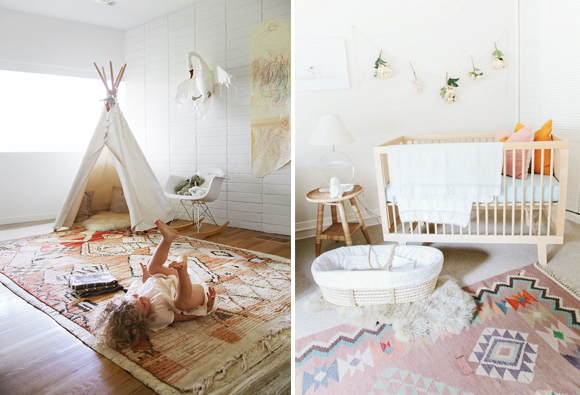 Summer has started and that means it might be just the time to change some things in and around the house. A nice place to start would be your children's room(s), if you have them of course! There's nothing more fun for kids than new stuff to explore and play around in, so why not use the change of seasons to your advantage? We have browsed around and found some cool new trends that might just make the difference you seek. And of course: for everyone's budget.
Scandinavian pastel tints
Scandinavian influences never seem to go out of style. Because of the long nights and short days, Scandinavians tend to use light and neutral colours in their interior to brighten up their houses. This also goes for children's rooms, since it also seems to have a calming effect on the tiny humans in our lives. Another bonus is the fact that pastel colours tend to match easily with all kinds of furniture and fabrics, from wood to plastic. You can also use accessories with geometric prints or a few colourful accessories without the risk of the room turning into a fairground!
Copper and wood
A nice combination that seems to conquer the market is the use of copper in combination with wood. Especially lamps that made with these materials can give a room a warm and comfy glow, whilst still appearing fresh and in tune with summer.
Teepees and huts
If there's one thing that children love to do, it's building their own little houses! Lately there are a lot of suppliers who seem to have picked up on this trend by providing ready-made teepees to place in your child's room. These are not just fun and safe to play in, but also available in multiple versions and colours so there's always one that will fit in your interior. If this option is too expensive for you, there's always the option of building one yourself (maybe even let the little one(s) help, just for fun). All you need is a few sturdy wooden sticks and a large piece of fabric to cover. And when you get tired of the tepee, it's very easy to disassemble and store.
Nature and animals
Back to nature it is! There seems to be a worldwide trend going on to keep everything as natural as possible, and children's rooms are no exception. Which is a good thing; with all the technological breakthroughs it's very easy to forget that we all need a little bit of rest from all the phones, laptops and television now and then. A very easy way to accomplish this in your child's room, is to place some real plants and flowers here and there. Not only will this make the room appear peaceful, it will also provide the room itself with extra oxygen. Which is obviously always a good thing.
All in all, the summer seems to be all about light, bright and natural. But with all the business in our lives, this is actually a very welcome factor to include in your child's day-to-day activities so they don't become overwhelmed by everything. It will change their own private space into an oasis of peace.