This is a portable generator that has attracted a lot of attention from homeowners and others who need a generator for home use or for use when camping or tailgating. It offers an amazing level of fuel efficiency and delivers clean and stable power all the time. There are two power outlets, and you will find it easy to start. It's quiet and comes with circuit beakers and spark arrestors.
Honda EU2000i Features
Fuel efficiency
This is one of the most important features for anyone looking forward to buying a portable generator. The reason for this efficiency is the existence of Eco-throttle system, which also regulates the speed at which the engine runs, depending on the available load.
Clean and stable power
The Honda EU2000i delivers a super clean and stable power. This is awesome because it means you can plug in a wide range of sensitive electronics without problems.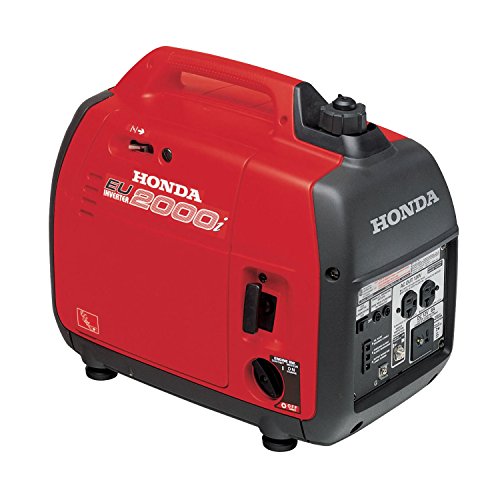 Powerful and easy to start engine
You will find that Honda EU2000i is powered by an amazing Honda 98cc OHC engine which is capable of starting quickly and which has an automatic electronic ignition and automatic decompression. The engine is able to offer 2000 surge watts, and 1,600 rated watts when in running mode.
Safety features
This Honda EU2000i shuts down automatically when the level of oil goes below the recommended levels. Other safety features that this portable generator offers are a circuit breaker, spark arrestor and voltage muffler. This ensures that you will never face the risk of fires or get your important electronics damaged because of power surge.
Fuel efficiency
This camping generator is capable of providing power for up to 8 hours non stop on a single liter of fuel tank. You can leave it running overnight, without worrying about spending a lot of money in fuel costs.
Warranty
This camping generator comes with a three year manufacturer warranty and this is important for the security and peace of mind of every buyer. It's the norm nowadays that reputable manufacturers  offer warranties  for labor or parts  as  a  testament that they believe in the  quality  of the products that they offer.
Noise level
The Honda EU2000i is relatively quiet and especially when you keep it away from your tent, you will never be disturbed by any noise.
Pros
Comes with a recoil starting system
Powerful HondaGX100 engine
 Offers up to8 hours of run time
 Light in weight (45.6 lbs)
Thee years manufacturer warranty
 Has several security features
Conclusion
Honda EU2000i ha s a powerful engine, operates quietly and can shut down automatically if the oil level goes lower than the expected level. The individual parts that make this generator meet the highest quality standards and delivers hours of power with a small amount of gas.