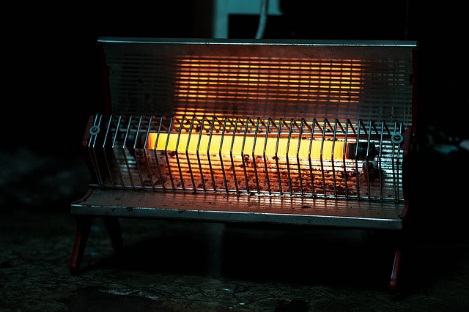 Once cold weather arrives, folks become desperate to turn their home's thermostat up. This unfortunately results to a higher than usual energy bill, which stings at the end of the month. But, there is an easy solution to this problem. Infrared heaters are an efficient way of staying warm while saving you a lot of money at the same time. Here, we are going to take a look at a few of our top picks in infrared room heaters that you can use around your house.
Before we get started, let's take a quick look at the inner workings of an infrared heater. A fun fact is that a radiated heating source is the oldest and most basic form of heating that our ancestors used during harsh winters. What makes infrared heaters unique is that they deliver the same amount of heat as the rays of the sun in the middle of summer, even the campfire you have sat around during a camping trip is radiated infrared heat. The human body is at a constant temperature of 98.6 degrees Fahrenheit, which is what cops on the TV shows use to find their targets using thermal imaging. The word infra means below in Latin, so infrared heat is part of the electromagnetic spectrum, which is invisible to naked eye, and lies below the red on the spectrum.
Quartz Infrared Heaters
If you took a quick look at a quartz heater, you would find a heating element that is wrapped inside a quartz tube. The first part of a quartz infrared heater is the heating element. The heating element is designed to specifically produce heat at a certain wavelength, and is built to reach a high intensity in order to heat the specific material that's used with the infrared heater. The quartz tube is another important element of the infrared heater, and plays many different roles simultaneously. This is supposed to protect the heating element to make sure it is not harmed. The infrared heater hits the desired temperature and will emit that temperature out of the heater.
Heat moves from a hot space to a cold space, which is exactly what an infrared heater will do. But, infrared heat can only travel from its heat source in parallel lines and not blasted around a room all at once. This is the same way how the sun works. You are going to feel warmth while you're standing under it, but once you move into the shade, you will cool down. This is why high end infrared heaters usually have a reflector that's positioned inside the heater to send the warm air directly into a path. Some heaters also have fans to help spread the heat throughout a room.
Top Infrared Heaters for Your Home
These heaters are light weight and portable, making it easy to carry them wherever it's needed at home. So, without further ado, let's get started.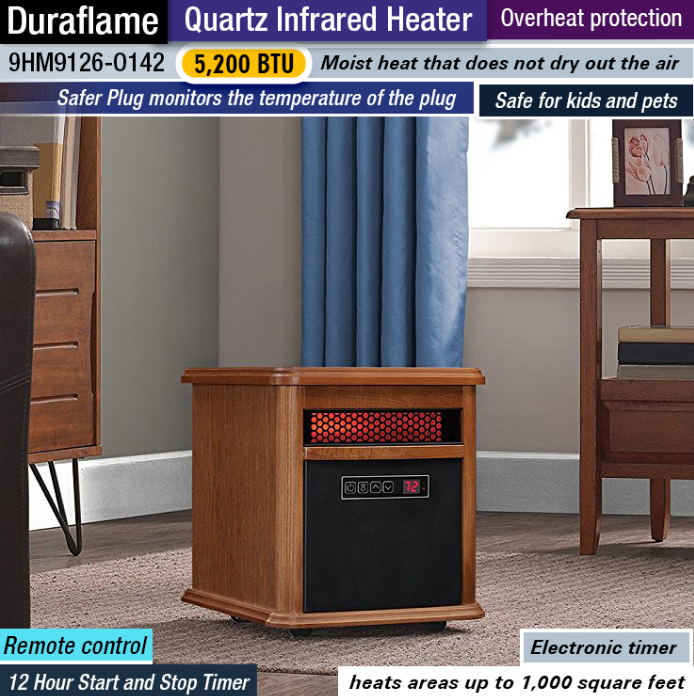 Features:
Stylish Wood Cabinet That is Cool To the Touch
Remote Control
Provides Infrared Warmth to an Extra-Large Room
Digital Thermostat with Remote. Quiet Scroll Fan Circulates Heat.
3 Heat Settings Including Eco Setting 12 Hour Start and Stop Timer
Overview
The LifeSmart LifeLux Series Ultimate 8 Element is an infrared room heater that lives up to its expectations. Designed to warm up even extra large rooms, the LifeSmart LifeLux Series Ultimate 8 Element is the ideal choice for people with large homes. The heater features 8 quartz elements that are neatly wrapped inside its heavy-duty metal heat exchanger coil. So, you know right off the bat that this infrared room heater is all business. You can set the heater high and warm up in no time regardless of how cold it is outside your home. According to LifeSmart, the heater elements can last for up to 25,000 hours, so it's safe to say that this heater is going to keep you and the family nice and warm for many years to come.
Easy to Use Features and Settings
The LifeSmart LifeLux Series Ultimate 8 Element features an Eco setting option that has been designed to keep the energy costs low when it is switched on. You can expect a temperature of 68 degrees Fahrenheit when the LifeSmart LifeLux Series Ultimate 8 Element is running on the Eco setting. In this setting, the heater can save maximum energy because it only has to adjust the temperature to a few degrees, but it makes a big difference in the energy bills. That said, even if you don't run this heater on Eco mode, the LifeSmart LifeLux Series Ultimate 8 Element is still considered to be one of the most economical options when it comes to infrared heaters around.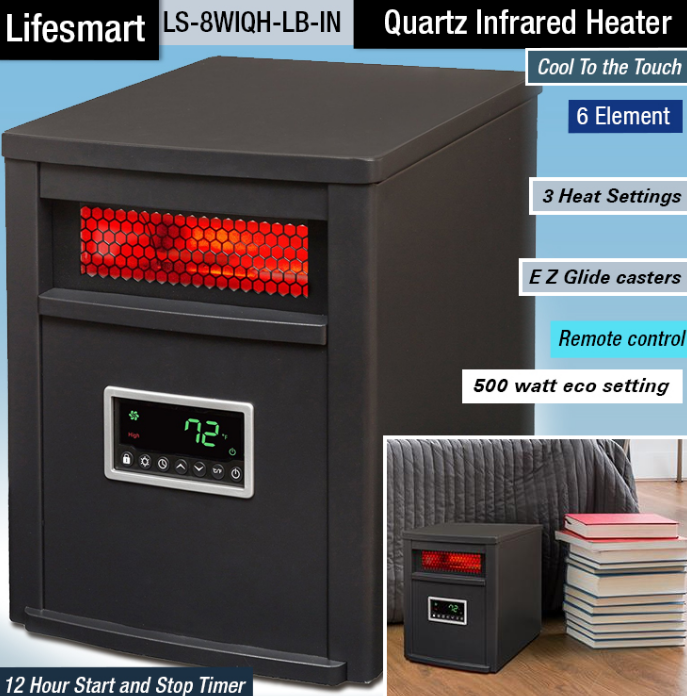 Features:
On/Off – 12 hour timer
Included remote control
Digital Controls
3 heat settings with ECO mode
Overview
Although the LifeSmart Quartz 6 Element has only six heating elements as compared to the previous version, it still delivers on efficiency, while being cheaper than the aforementioned model as well. This infrared is an ideal option for those homeowners who are looking for something a bit more basic, but can provide for them the heating they need during the winter months.
Energy Saving Feature
Much like the previous infrared heater, LifeSmart has added the Eco setting on the LifeSmart Quartz 6 Element as well so this heater is going to use around 500 watts to keep your room at a constant temperature of 68 degrees Fahrenheit.
Remote Control and Dual Timer
The LifeSmart Quartz 6 Element may be a cheaper option, but that doesn't mean you won't be getting any of the features expected of a high end brand. This heater features a dual timer that gives you more control over the temperature of the heater and also a remote control so that you can adjust the heating from anywhere. The timer also allows you to switch the heater either on or off up to 12 hours in advance.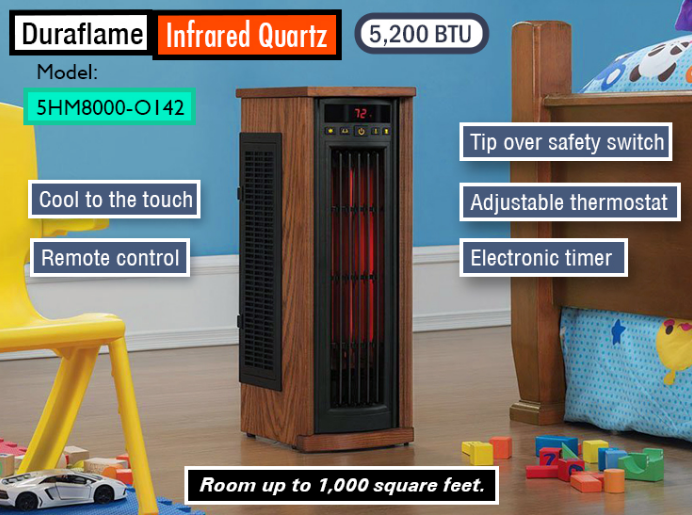 Features:
5,200 BTU heater provides supplemental zone heating for up to 1,000 square feet
Electronic timer function
Fan function can be used with or without heat for enjoyment in any season
Heat output 5,200 BTU
Infrared heating elements lifetime is over 20K hours
Oscillation feature allows the heater to remain stationary, blowing in only one direction or alternately to oscillate and move side to side.
Patent pending Safer Plug fire prevention technology provides added safety by monitoring the temperature of the plug to prevent electrical fire, circuit or product damage
Safe for kids and pets – stays cool to the touch
The infrared heat helps to maintain the natural humidity within the air, resulting in moist, comfortable heat without drying out the room's air
Tip over safety switch – will automatically turn off the heater should it get knocked over
Uses standard 120-Volt, 3-prong grounded outlet
Overview
The Duraflame 5HM8000-0142 offers the perfect balance between efficiency as an infrared heater, and safety. Since p to 25,000 residential fires occur in the US annually due to space heaters, this is a great relief. This heater features a built-in thermostat that has been designed to monitor the temperature of the plug while the heater is switched on.
Safer Plug for Added Protection
The Duraflame 5HM8000-0142 also features a safer plug that has been built into the infrared heater. Once the temperature rises higher than the safe temperature of the plug the heater is switched off automatically, and does not come on until the plug and the outlet have both cooled to the recommended temperature setting. This is good news since homeowners do not have to worry about the heater getting too hot or the kids accidently burning themselves on the surface of the heater.
Tip-Over Safety Feature
The Duraflame 5HM8000-0142 also features a special tip-over safety feature that automatically switches off the heater when it is knocked over. While heaters are usually kept in spaces where there is not much leg traffic, this is a neat feature for any heater to have.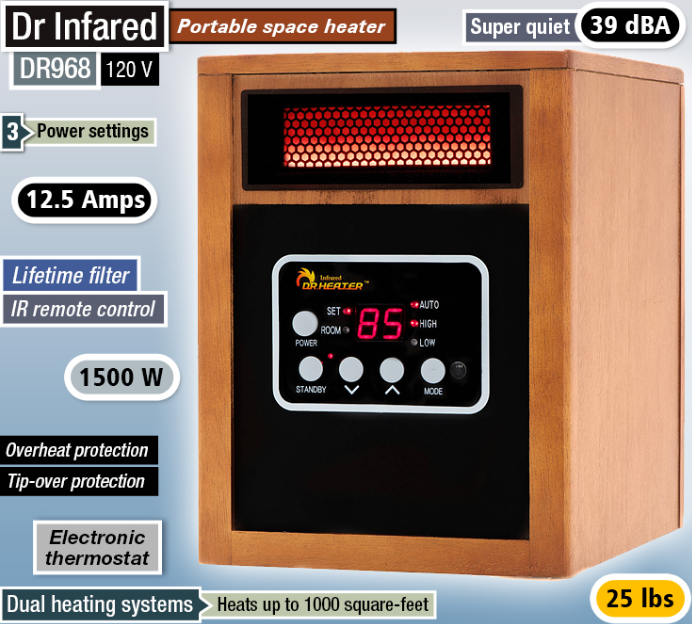 Features:
Thermostat regulates the heater and causes it to cycle on and off to maintain the set temperature
Thermostat automatically maintains desired temperature setting
State of the art 7 in. blower that moves larger air volume with very low noise
Safe-to-touch design with no exposed heating elements
Quickly and quietly heats areas up to 1000 sq. ft.
Perfectly safe around the children and pets with no exposed heating elements
Listed by underwriters laboratories (UL) and Canada that ensures highest safety standards
Advanced dual heating system puts out 60% more heat than the other models in the market
Overview
The Dr. Infrared Heater DR968 is another great option as an infrared heater as it can heat your room in no time. But, there's more than one reason why you should get the Dr. Infrared Heater DR968. First off, the Dr. Infrared Heater DR968 features a dual heating system that helps maximize its heating transfer rate when switched on. This also helps eliminate any cold spots around the room once this heater has been switched on. Another nifty feature of the Dr. Infrared Heater DR968 is its high efficiency. The Dr. Infrared Heater DR968 can deliver up to 60% more heat as compared to other 1,500-watt models.
Power Motor for More Heating Capacity
One of the reasons why the Dr. Infrared Heater DR968 is able to deliver more than other infrared heaters of its price point is because of the blower, which is 7 inches long and twice the length of other standard blowers. This makes it easier for the Dr. Infrared Heater DR968 to generate more than enough heat to warm up even a large room with ease.
Low Noise Level
The Dr. Infrared Heater DR968 only generates up to 39 decibels which makes it super quiet as compared to other heaters of the same size. Even while working on a higher mode, this heater is going to keep things quiet for extra comfort around the house. What makes the Dr. Infrared Heater DR968 unique as a heater is that it can easily warm up a lot quicker than other heaters regardless of where its placed around the house.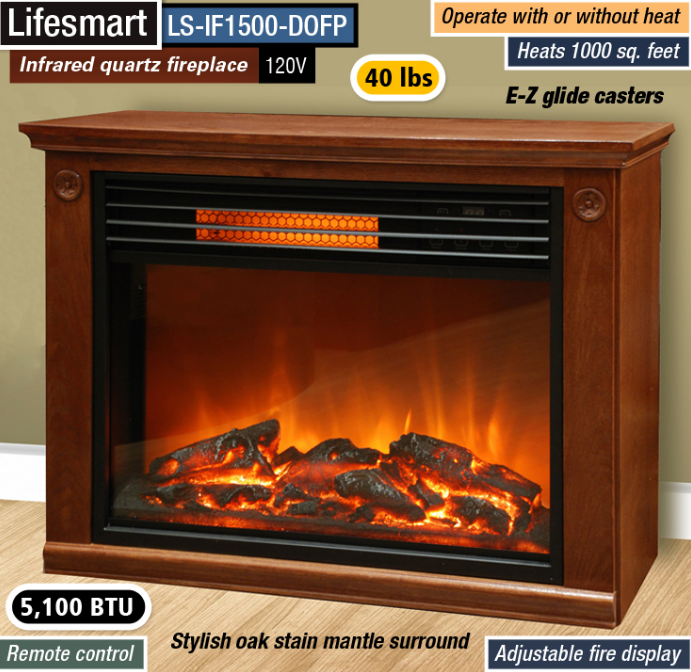 Features:
Dimensions: 24"L X 11"W X 20"H
Features a Quakerstown dark oak cabinet and mantel
Heats 1000 sq. feet with 5100 BTU's
Produces natural, quiet, and efficient infrared heat
Two levels of realistic fire glow
Overview
If you are looking for both style and efficiency in an infrared heater than this heater will cater to both those needs. The LifeSmart Quartz Fireplace LS-IF1500-DOFP does not only deliver in the heating that's required to warm up medium to large size rooms, it is also easy on the eyes. In fact, when it comes to appearance, the LifeSmart Quartz Fireplace LS-IF1500-DOFP is considered to be more aesthetically pleasing than other models in the LifeSmart lineup.
Real Like Fireplace Design
The LifeSmart Quartz Fireplace LS-IF1500-DOFP looks just like a real log fireplace when it is placed in a room, and automatically adds class and sophistication to any setting. Users will get two levels of glow in this realistic fireplace that will allow you to set the heat according to your mood.
Portable and Easy to Carry
The LifeSmart Quartz Fireplace LS-IF1500-DOFP measures in at 24 x 11 x 20 inches in size so it is easily large enough to look realistic. But, that doesn't mean that it is difficult to move around the house. In fact, the LifeSmart Quartz Fireplace LS-IF1500-DOFP's portable design makes it easy to move around the house so that the heat goes wherever you go. It does however, weigh around 40 pounds so you wouldn't want to do much moving around. Just place this heater in a room and enjoy the heat and the view of a real-like log fireplace in your home.
Ending Note
These were just some of the options when it comes to infrared heaters that you can use around your home. The purpose of this guide was to give you an idea of the things to look out for when shopping for an infrared heater for your home.