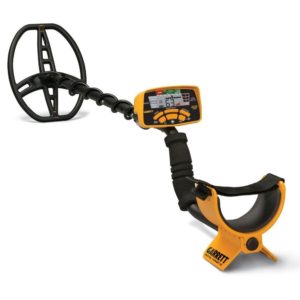 After establishing an outstanding reputation as a brand among metal detectors, products under the banner of Garrett is definitely worth putting your money in. As far as the ACE model line is concerned, this has particularly proved to be quite a handy detector that is also easy to use. The ACE 400 metal detector is titled as the 'king of aces' for all the amazing features it comes with.
Why Ace 400 Metal Detector?
The outstanding features include Digital Target ID, Iron Audio, and Frequency Adjustment to help you enjoy this product to the core without any inconvenience. It also comes with additional accessories including environmental cover-up, headphones, coil cover and additional five more items to make user experience even better.
The free bonus items include pro series composite trowel, pro magnifying glass, 1-year location membership, pro series deluxe finds and tool pouch, and pro treasure gloves.
Key Features of Garrett ACE 400 Metal Detector
The following are some key features of this product that makes it so popular:
Iron Audio generates sound for discriminated iron targets and allows the user to change the range of signal

Camlocks for improved stem stability

Digital Target ID with the range falling between 0 and 99, it offers target information on the screen as display

Allows adjustment of frequency to help eliminate interference

Includes electronic pinpointing, which helps speed up recovery and locate targets precisely

Five modes of searching

Modification of description based on what you are seeking

Three levels of Audio Tone ID

Works with 4AA batteries

10 kHz Frequency
As far as the design is concerned, this particular model looks quite similar to the other models in the ACE range. However, the only exception in this design is the cross-shaped coil. It also includes a shaft, a control box, and a Pro Performance coil 8.5" x 11". The shaft has an armrest at the end, which makes it more comfortable and easy to use.
The design also comes with Mode buttons that can be scrolled through for additional functions.
The Zero-Discrimination Mode helps detect metal regardless of its type

The Jewelry Mode is designed to find rings, necklaces, and bracelets, while rejecting all the objects based on iron

The Custom Mode has been designed to allow user make custom changes with settings.

The Relics Mode does not detect iron while identifying objects that has lower conductivity such as brass, lead, and bronze.

Coins Mode is the last mode that is programmed to identify monies while ignoring iron and foil. However, it can confusingly detect some unnecessary items such as cans made of aluminum.
Conclusion
The metal detector does not come alone. It comes with various bonus objects as well as additional attachments for better performance. This definitely is an interesting surprise for anyone paying that price. If you are planning to invest in this one, it's definitely a deal worth it. So if you are ready to scrape the barrel and get one now, visit Amazon and learn more about this fantastic product.