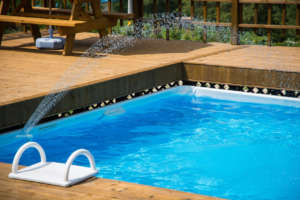 Owning a swimming pool in a country that has all four seasons can be a drag, especially if the swimming season is limited due to long winter months. But, that's no reason to fret. That's because luckily there are options available that allows you to use your pool in winter months or at least extend your swimming season even into the mildly cold months. So, let's take a look at some of the ways in which homeowners can heat their swimming pool effortlessly and enjoy their pool.
What DOES A Pool Heater Do?
The swimming pool heater has one function, and one function alone. To battle the real enemy – the temperature! During those cold winter months, heating the pool is probably the most obvious way of getting the most out of your swimming pool once the summer months are over. In fact, it wouldn't be wrong to say that pool heating systems are a crucial aspect of any swimming pool, at least, during the winter. The main function of any swimming pool heater is to raise the temperature of the water inside the pool to a level that will be comfortable for you to swim in.
Apart from raising the temperature of the water in your pool, a swimming pool heater is also required to maintain the temperature at the same level for a specific time period. While all types of pool heaters have a similar function, which is to heat the water in a pool, just like with everything else in life, all swimming pool heaters have not been created equally. The following are the different types of pool heaters that can be used by homeowners to keep the temperature of the water in your swimming pool at a comfortable level.
Gas Pool Heaters
Solar Pool Heaters
Heat Pumps
Which In-Ground Pool Heater is Right for You?
Before you can go ahead and get yourself a heater for your inground pool there are some important factors to keep in mind so that you can make a more informed decision. First of all, you need to take into consideration the price of fuel in your neck of the woods to make sure you don't have to pay more than you bargained for. The following are the different types of pool heaters:
Gas Inground Pool Heaters
The first type of heater that comes to mind is the gas pool heaters. These heaters are powered by either natural gas or propane and are able to provide a way to heat your pool so that it is comfortable during those winter months. Since these pool heaters get their energy from natural gas rather than any other energy source, they are able to heat the swimming pool regardless of what the air temperature is indicating. This also happens to be one of the reasons why these types of heaters are gaining ground in the inground pool heater niche. A gas powered inground pool heater is able to heat a swimming pool more easily in lower temperatures as compared to the other types of pool heaters. Gas pool heaters are also more efficient and convenient as compared to other pool heating systems which make them the ideal choice for those who want to use a gas heater for their inground swimming pool.
Pros and cons of gas pool heaters
While the cost of using a gas inground pool heater is low when compared to other pool heating options, the operational costs of installing an inground gas pool heater is comparatively more than other heating systems. This is mainly due to the fact that a gas pool heater needs a consistent source of fuel for it to heat the pool. With regards to the spike in gas prices, using a gas pool heater could be more expensive as compared to other options, but that all depends on how much the pool is being used during winter months. That being said, the initial installment of the gas pool heater is relatively low as compared to other systems and since it is a faster mode of heating inground pools, it is the preferred mode of swimming pool heating.
Electric Inground Pool Heater
Those who have a portable spa or use a therapy pool in their homes may want to consider the electric inground pool heaters that are available in the market. While this option will work well for a portable spa or therapy pool, it will require a significant amount of electric power in order to run, which is why the electric inground pool heater is a less preferred option for many homeowners.
Pros and cons of gas pool heaters
Apart from the small size of the electric inground pool heater, it is also rather expensive to install and requires complex wiring and the use of heavy duty circuit breakers, which only adds to the cost of installing an electric inground pool heater. On the flip side an electric inground pool heater will not release any harmful gases into the atmosphere, making it a cleaner option than the first one.
Solar Power Inground Pool Heater
The solar option is probably the cheapest of the different types of inground pool heaters. Some of the advantages of having an inground pool heater is that it does not cost much to install and does not make a noise while it's running. This is because the solar powered inground pool heater uses a free energy source – the sun. This means no emissions and a low running cost. There's just one catch. The solar powered inground pool heater requires the sun as the source of its power which means it won't be of much use if you are living in a country or area which receives less sunlight during winter.
Pros and cons of solar pool heaters
Solar energy is by far, one of the cleanest forms of energy available and is the preferred choice by those who want to do their part in saving the environment. But the environmentally friendly nature of the solar powered pool heater means that the heater is completely dependent on the sun as the source of its energy. This is why people who use solar energy pool heaters also require a backup option as well.
Electric Heat Pump
The electric heat pumps come in two power sources; water and air. The water pumps can transfer heat from water and the air pumps use heat from the air to heat the water in the pool. Both options are cheap as compared to others on this list except for gas heaters, but come with their own set of drawbacks.
Pros and cons of the heat pump
Heat pumps are considered to be more expensive as compared to gas powered inground pool heaters. But, they are energy efficient and do not waste energy, which makes them an ideal option in some situations.
Sizing Up Your Pool
One of the most important factors to consider before you decide to purchase an inground pool heater is the size of the pool. This is the single most crucial factor to getting a pool heater that is able to meet your requirements. If you size up your pool wrong, you will end up with a pool heater that's not able to deliver and will result to you sitting uncomfortably in your pool during those winter months. Furthermore, the inadequate supply of heat to the pool will also mean having to pay more for your energy bills, which adds to the cost. While there are different ways in which you can size your pool when getting a pool heater the following is considered as the easiest.
Find out the average temperature for the coldest month in your area.
Subtract the average temperature for the coldest month from the desired pool temperature. Then, calculate the pool surface area in square feet
You can use this formula to determine the Btu/hour output requirement of the heater: Pool Area x Temperature Rise x 12
Complicated? No problem. You can also use any one of the many pool heater calculators available online to find out the ideal temperature for your pool.
Best Pool Heaters
Now, that we're done with the details of how to get yourself a heater for your inground pool, here are our top picks for inground pool heaters.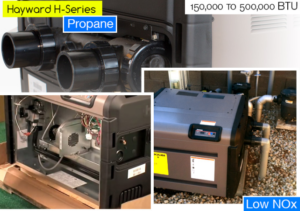 Features:
Universal design independent left or right-side electric, water and gas connections
Standard Cupro nickel heat exchanger
Patented polymer header and bypass valve design for the ultimate in hydraulic efficiency
Hayward Universal design for easy and versatile professional installation
Low NOx emissions to meet or exceed air quality emission standards in all Low NOx regions
83% thermal efficiency for energy-efficient performance
2″ x 2½" CPVC unions and plumbing fittings
Overview
The Hayward H400FDN is the universal H-series pool heater which is a great choice for those who want to install the latest technology when it comes to inground pool heaters. While the Hayward H400FDN H-Series does boast of a low NOx emission, you won't be saving the world from global warming, you will however, be saving your wallet from a major dent in the utility bills.
Stainless Steel and Sturdy Build
The Hayward H400FDN H-Series is your best bet when looking for a pool heater that's been built to last. The Hayward H400FDN H-Series features a stainless steel design and insulated fire tile combustion chambers for added safety. Besides that, you will also get a corrosion resistant heat exchanger that will ensure that this pool heater is going to last you for years to come.
Easy to Use Controls
The Hayward H400FDN H-Series also features a nice LED control panel for users to keep an eye on the temperature and set the heater if necessary.
Great Option for Salt Water Pools
The Hayward H400FDN H-Series is the best choice for those homeowners who have salt water pools. This is possible due to the high-quality CuproNickel material that the pool heater is made of which is considered to be the strongest metal alloy we know of.
Pentair 460737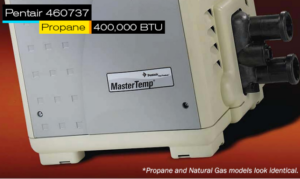 Features:
Low NOx emissions and outperforms industry standards.
Hot surface ignition (no pilot light) and push-button, digital controls.
Safety features including, water pressure switch that senses the pump is running to prevent overheating; high limit switches to turn off if the temperature exceeds the factory set limits; manual gas shut-off in case of emergency.
MasterTemp is ultra-quiet and won't be noticeable when you're lounging in your pool.
Durable, rustproof composite exterior.
Rotating digital display for easily viewable temperature monitoring.
Overview
The Pentair 460737 does not look like much because of its small size. But don't let its compact size fool you. This is a piece of cutting edge technology rolled up into a neatly packaged portable inground pool heater that delivers in spades. The Pentair 460737 is a gas-powered heater that's reliable and efficient.
Neat Temperature Display and Other Features
The Pentair 460737 gets its power from natural power which is reliable and efficient. The digital display allows users to keep track or set the temperature of this pool heater so that the temperature of the pool remains at a comfortable level. Surprisingly, the Pentair 460737 has been designed to be quiet so you can enjoy the pool while the heater is on. The five LED lights on the control panel are indicators of the status of the system or if the heater requires any servicing. The best part about the control panel used in the Pentair 460737 is that it is compatible with other manufacturers, so you can mix and match if you'd like another control panel design.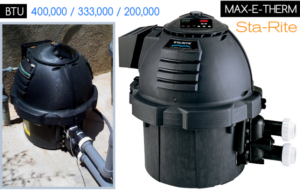 Features:
Top of the class in energy efficiency
Rustproof Housing
Sleek, matte black enclosure is made of Dura-Glas and patented Sta-Rite material
Reduced Operating Costs
Rated first in its class for energy efficiency
Lightweight
All models are low NOx
Easy to switch gas sources with installation of separate orifice
Custom or Retrofit – Direct-connects to Sta-Rite System
3-Mod Media filter
Compact Design – Ideal for retro-fit installations
Overview
The Sta-Rite Max-E-Therm is another reliable inground pool heater that is powered by propane. The heater is lightweight and compact making it an ideal option for retro fit installation. The Sta-Rite Max-E-Therm is also loaded with all the bells and whistles one would expect from an inground swimming pool heater.
High Energy Efficiency
The Sta-Rite Max-E-Thermis a great option for those who want to do their part for the environment with an energy efficiency rating of around 84%, making it one of the best gas-powered inground pool heaters at its price point. The eco-friendly design also emits low NOx emissions, which makes it suitable for both indoor and outdoor inground pools.
Tons of Features Provides Great Value for Money
The Sta-Rite Max-E-Therm inground pool heater boasts of many features which makes it easy to see why this is considered as one of the best options out there as far as inground gas-powered pool heaters go. The Sta-Rite Max-E-Therm features an easy to read LED temperature readout that comes along with a user-friendly interface. The smart thermostat controls are able to monitor the water temperature of the pool and make the necessary adjustments if required. The weather proof housing of the Sta-Rite Max-E-Therm means that it can be kept outside during winter season without any danger of jamming or freezing the components inside.