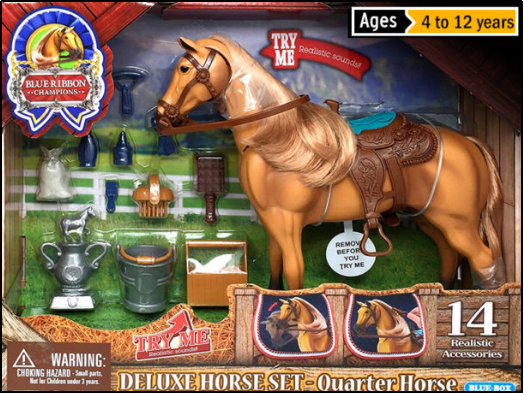 Kids love the outdoors, but once the snow starts to fall, you'll want to keep your kids indoors for their own safety. But, that doesn't mean they can't have fun. Horses have always been an iconic part of our history and have made a considerable impact on our progress through the ages. Remember the time when you liked playing cowboys and Indians, or the first time you asked your parents for a pony? You may have not got that last one, but, there are plenty of affordable ways that won't involve having to build a stable in the backyard. Horse toys for small kids have always been a favorite mainly because they help inspire imagination in young minds. Whether it's pretending you're a cowboy saddling up to catch some Indians, or you're just gathering ponies into a corral, there is so much fun to be had with horse toys.
If your kid likes to horse around, these are the toys they'd love to find under the Christmas tree this year. The best part is, you can buy these amazing horse toys for both boys and girls since these toys appeal to everybody.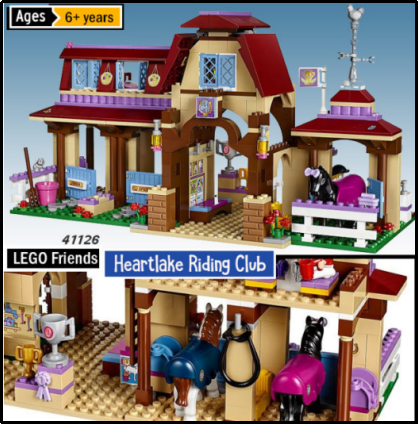 Features:
Features a 2-story stable building with turning weather vane and a yard with rotating horse exerciser, a two height practice jump, feeding and drinking trough, and a grooming station.
You can turn the revolving exerciser and set the height of the practice jump.
Take off the saddles and bridles, and put blankets on the horses after a hard day's training.
Include helmets, saddles, bridles, trophies and horse blankets.
Relax with friends in the cafeteria and enjoy a slice of cherry pie and a cup of hot chocolate.
Includes Mia and Stephanie mini-doll figures in riding gear, plus a mouse and 2 horses: 1 black and 1 white with brown markings.
Grooming accessories include combs, brushes, 3 horse soap bottles, bucket, hair bows, fork, hay, carrot and an apple.
First floor features 2 stables with opening doors, archway with trophy display, and a changing room with swing doors, toilet, sink and a helmet stand.
Second floor features opening windows, a cafeteria with table and benches for mealtimes, a loft area with 2 beds and a mouse house.
Dining accessory elements include cups, plate, bowl, 4 cherry pie slices, 2 watermelon slices, water bottle and cheese for the mouse.
Lego Heartlake Riding Club — Overview
Horse toys have become quite a hit amongst small kids. The Lego Heartlake Riding Club is a great toy for any kid who would love to have a horse. The toy not only includes some wonderful features that makes playing with it fun, it also has been built by using the best premium materials to ensure it lasts a long time.
Many Features and Accessories
The Lego Heartlake Riding Club features many amazing features and some interesting accessories as well which can keep kids occupied for hours. The Lego Heartlake Riding Club features a 2-storey stable building which has a stable for both the horses included in the set. There is also a loft bedroom that can be used by Stephanie and Mia, a changing room and a cafeteria. There's also a mouse room along with a training area where you can raise your prize-winning horses. The rotating exerciser keeps the horses fit and the practice jump can be set to tow different height levels according to your liking. The Lego Heartlake Riding Club offers a great deal of fun for little horse enthusiasts.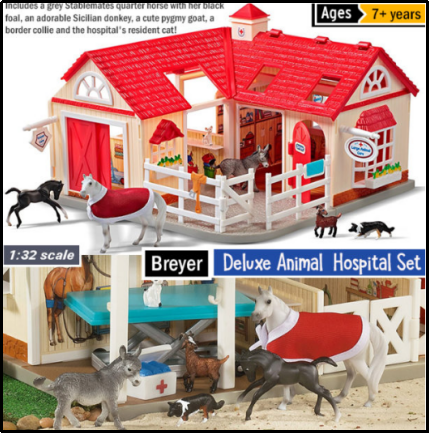 Features:
Assembly required.
Includes a grey Stablemates quarter horse with her black foal, an adorable Sicilian donkey, a cute pygmy goat, a border collie and the hospital's resident cat!
Accessories include, horse blanket, bandage box and operating table.
Stablemates are 1:32 scale.
Animal hospital measures 11.25″ X 10.75″ X 8″
Breyer Stablemates – Deluxe Animal Hospital Set – Overview
Everybody gets sick, people do and so do animals. This would require them to go to the doctor or veterinarian. For kids who would want to grow up to care for horses and other animals by becoming veterinarians, this is going to be the ideal toy to get them started. The Breyer Stablemates is also a great toy for kids who are just horse riding enthusiasts.
Many Accessories Make Playing Fun
The Breyer Stablemates comes with many accessories and features that makes playing with the toy all the more interesting. With the Breyer Stablemates toy set, you will get quarter horse and her foal, a cat, donkey, pigmy goat and a border collie. This is truly a unique toy where little kids can get a nice introduction into the field of medicine for animals. A great option for kids who want to become animal doctors when they grow up.
Easy Assembly and Great Build
The stablemate hospital is a pretty large toy and measures at 11.25" x 10.75" x 8", but it is surprisingly easy to assemble and takes less time than one would imagine. It's easy to see that the Breyer Stablemates has been constructed with premium quality materials for a long-lasting, robust design.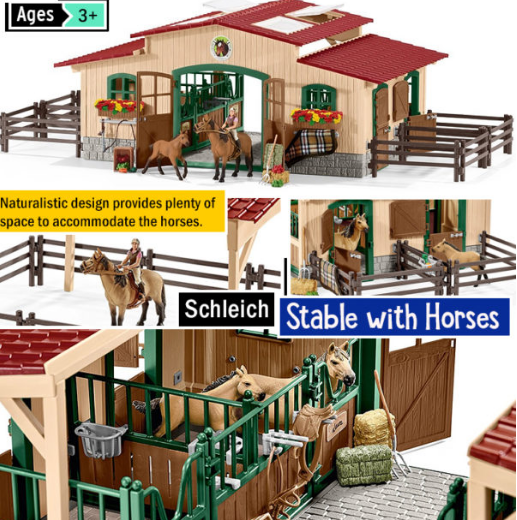 Features:
Roof with paddocks becomes an open riding arena!
Moveable roof window!
Fence parts can be connected in any way!
Equipped with hay racks
drinking troughs and tack holder
Schleich North American Stable— Overview
When it comes to toy horse stables for kids, the Schleich North American Stable has got to be one of the best options out there. The Schleich North American Stable features a double wide gate allowing the horses to have plenty of room. There's a mustang fare and a mustang foal that have been included in the Schleich North American Stable along with a rider. You also get a sticker sheet and 2 planters to allow kids to customize their stable with a personal touch.
Removable Stable Room and Running Area
The Schleich North American Stable features 12 paddocks which can be assembled together to create a larger running area by using the stable room which is also removable. The Schleich North American Stable also comes with many additional accessories that the kids can use to care for their horses, providing children with a nice opportunity to learn the importance of responsibility. The level of quality and attention to detail in the design of the Schleich North American Stable is what sets this toy apart from the rest and makes it one of those horse themed toys that kids are going to appreciate.

Features:
Set includes a grey Peruvian Paso, a red roan pony, 12 pieces of fencing, feed bag, water trough, hay bale.
5″ x 7″ sheet of stickers to personalize the stable.
This 7-stall barn is loaded with the equipment needed for a busy riding stable.
Stable roof lifts for easy access to stables inside.
Assembled finished stable size: 28″L x 16.34″W x 8.625″H
Breyer Stablemates — Overview
You can think of the Breyer Stablemates as the 5-star hotel when it comes to stables. The Breyer Stablemates has seven stall wooden stables and comes with two horses. You also get a feed bag, water trough, and 12 fencing pieces along with a bale of hay for feeding the horses in your care.
Nice Attention to Detail and Design
The Breyer Stablemates features a beautiful and well thought of design. The designers have clearly gone over many of the tiny intricacies of a horse stable before designing the Breyer Stablemates which is the reason why it's so well designed and nice to look at. But, that's not all, kids can also add their own personal touch to the Breyer Stablemates by using decorations and some beautiful stickers that comes with the toy stable.
Beautiful Stable and Sturdy Build
It's easy to see that the Breyer Stablemates has been designed by using the best quality materials that are safe for kids to play with. The brand has always been known to design kid's toys that have set the bar in quality and design, and the Breyer Stablemates is no exception. Horse riding enthusiasts will find themselves having the best time playing with this toy stable.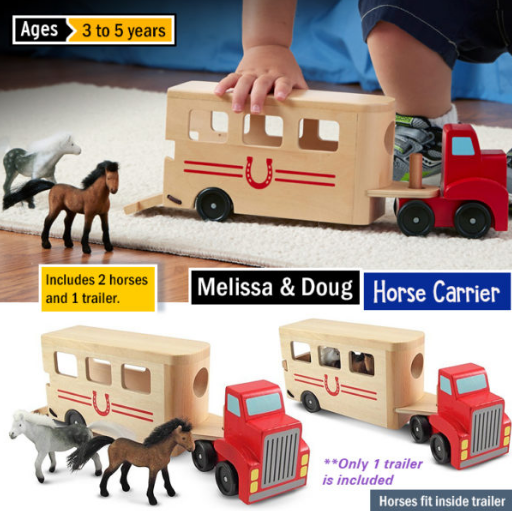 Features:
Encourages imaginative play and fine motor skills.
Horse trailer links easily to the truck's wooden "hitch."
Realistic pull-down ramp allows horses to be loaded and unloaded easily.
This durable wooden vehicle is ready to carry horses in style!
Two flocked play horses are included.
Melissa and Doug Horse Carrier — Overview
If you don't want to buy your kid a stable, or already have all the bells and whistles, then you might be missing a very crucial component to any horse stable – the horse carrier. This is where the Melissa and Doug Horse Carrier comes in. Here you have an incredibly designed horse carrier with smooth edges and a great design that will help your little stable master transport the horses to and from the stable.
Wood Design and Robust Build
The Melissa and Doug Horse Carrier boasts of a full wood design and will be a great addition to any stable. The Melissa and Doug Horse Carrier comes complete with a pull-down ramp to help the horses get on and off the carrier, and as if that wasn't enough, you also get not one but two toy horses that have been included in the Melissa and Doug Horse Carrier. You also get to have a hitch that can be hooked up to a trailer.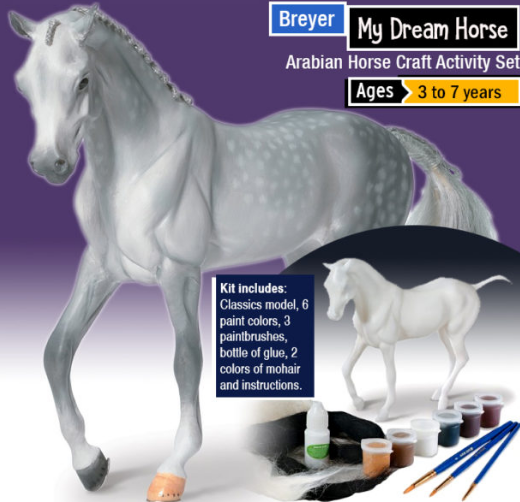 Features:
Kit includes: Classics model, 6 paint colors, 3 paintbrushes, bottle of glue, 2 colors of mohair and instructions.
Includes real mohair
Horse model size is 8″L x 7.25″H
Great for beginners or experienced painters.
Contains detailed, unpainted Arabian model.
Breyer Classics Arabian Horse Craft Activity Set — Overview
Moving away from the stables and horse carriers, we have the Breyer Classics Arabian Horse Craft Activity Set. As the name implies, this is a craft set that allows your child to paint their own horse with the color of their choice. The wonderful looking model horse looks great as it is, but a little color wouldn't hurt either.
Accessories for Creative Kids
The Breyer Classics Arabian Horse Craft Activity Set doesn't just feature a large model horse, but many other accessories that allows kids to be creative and use their imagination while playing with the Breyer Classics Arabian Horse Craft Activity Set. With this exclusive toy set, you get a model horse, three premium quality paint brushes and six paint colors. It also includes a bottle of glue, two colors of mohair and comes along with instructions to help kids get started. The instruction manual included in the Breyer Classics Arabian Horse Craft Activity Set includes pictures and guides to using the coat colors and how to color markings on the face and legs of the model horse. Kids can paint it to look like their favorite horse from the movies, TV show of cartoons. Once the paint has dried, kids can play with their new toy and have many fun adventures together.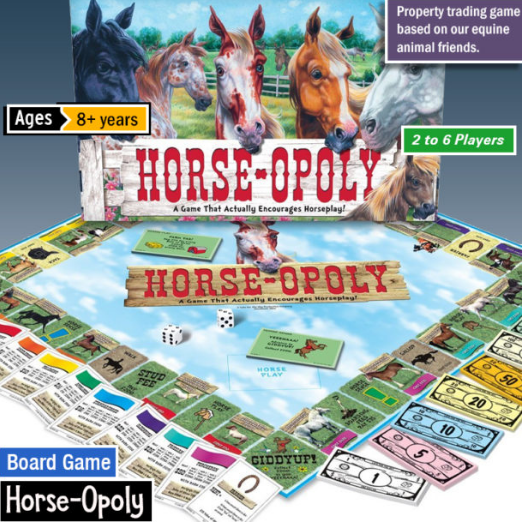 Features:
Game play is for 2-6 players – 8 years to Adult
HORSE-OPOLY is a property trading game based on our equine animal friends. It's a game that actually encourages horseplay!
Includes paper money and a game board
Horse-Opoly Board Game – Overview
The Horse-Opoly Board Game is just the thing you need when it's snowing outside. For the horse fanatics out there, why go for the traditional monopoly when you can add in a twist with the Horse-Opoly Board Game. The horse themed board game has a lot to offer for kids of all ages and even adults as well. Making it a fun way to enjoy your time with your kids in a safe environment.
Can be Played by 2 to 6 Players
The Horse-Opoly Board Game can be played with 2 to 6 players at the time, and since it's a horse-themed board game, it also includes a horseshoe, horse trailer, saddles, riding boot and a bag of oats. The board game has been well thought of and also allows players to learn some new and interesting facts about horses that you probably didn't know of before.
An Ideal Gift for Christmas or Birthdays
The Horse-Opoly Board Game is not just for kids but is tons of fun for the whole family. This board game is extremely popular during Christmas time and provides a neat way to spend some quality time together while it is snowing outside.
Ending Note
So, there you have it, these were just some of your options if you are thinking of getting a gift for kids who love horses. The toys included in this list are also good options for collectors and horse enthusiasts as well mainly because of their realistic features and premium quality design.