Little Tikes Jump 'n Slide Bouncer Review
Jump 'n Slide Bouncer are among the most notable products of its class that can guarantee your kids endless fun. The bouncer can be inflated quickly and effortlessly and your kids will be outside having fun in no time. When it's time to take it back inside the house, the toy breaks down easily for an incredibly easy storage. It's built out of a puncture resistant material and the continuous airflow ensures that there is no burst, especially at the seams.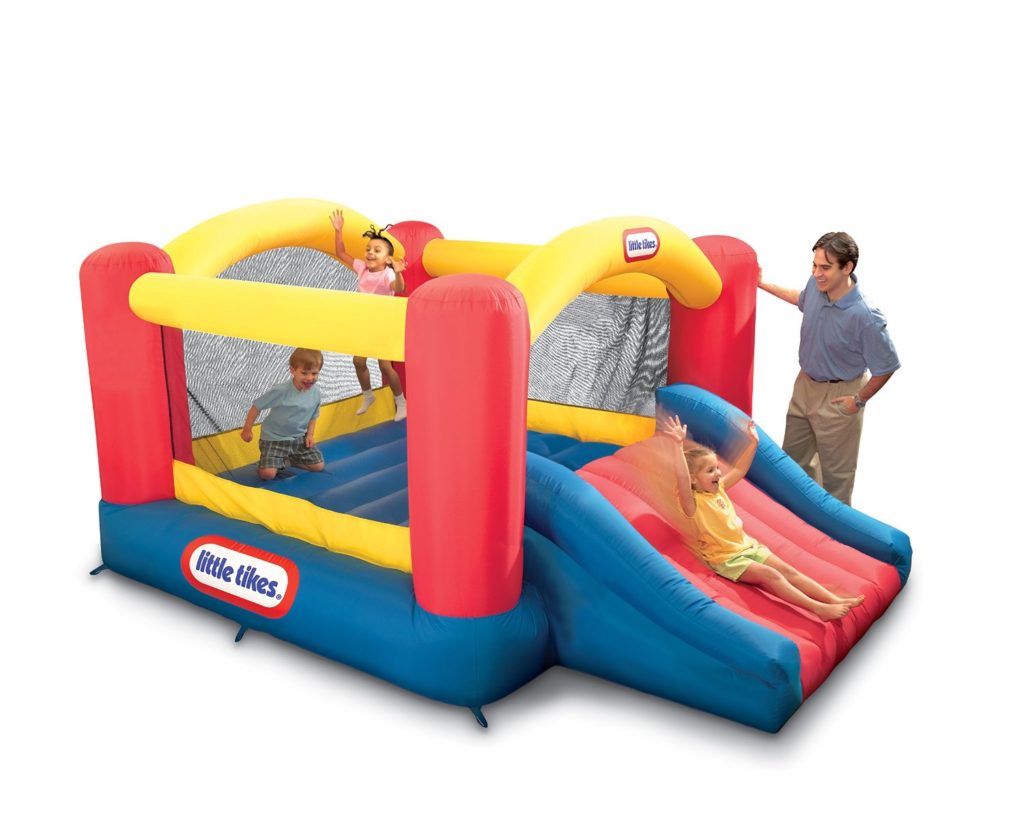 Little Tikes Jump 'n Slide Bouncer Features
Large Jumping Area
The jumping area of the inflatable booster is spacious and it's enough for three kids to jump at once. Your kids can have unlimited hours jumping in this awesome bouncer.  With the extensive area of play, your kids can jump the way they want without worrying of hitting the wall. The large capacity of up to250 lbs makes it possible to accommodate your loved ones as they grow.
Sliding Fun
Your kids can enjoy extra excitement thanks to the large inflatable slide. Your children will find it interesting sliding out of the Jump 'n Slide Bouncer and getting back up. The bouncer is firmly anchored in the right place by the six stakes hence ensuring that there is no interruption of play.
Quick inflation
Jump 'n Slide Bouncer from Little Tikes have a functional heavy duty blower that guarantees a continuous flow of air. This helps in keeping the bouncer inflated while your children are playing. Also available are six stakes that helps in holding it in place. The storage gas ensures that the Jump 'n Slide Bouncer can be stored on the go.
Safety guaranteed
To ensure that your young ones remain safe while jumping, the walls are tall and have been surrounded by mesh netting. The netting allows you to watch you're from a distance, so you can know when they are up to something. You can watch the fun as it unfolds from start to the end.
Fully Accessorized
Jump 'n Slide Bouncer are sold with all the accessories which it needs to function effectively. Among the accessories that are include a repair kit, a heavy duty blower, blower stakes, bouncer stakes and a storage bag.
Pros
It is shipped with all the accessories that it needs to have it functional.

It's designed and equipped with the safety of your child in mind. Among the  safety features that are available include tall walls, a mesh netting  enclosure and  smooth  curves  which  ensures that  your  child  doesn't get injured.

Can be inflated and deflated with ease. The storage bag makes it easy to move it inside and outside the house.

The six stakes ensure that the Jump 'n Slide Bouncer are firmly anchored in place when your kids are jumping on it.

It offers a spacious jumping area.
Our Verdict
The biggest gift that you can give your young ones is endless fun in a safe environment. Jump 'n Slide Bouncer have hordes of safety features that helps to keep your kids secure while they are having endless fun. You will find it incredibly easier moving it to and from the house and also inflating it. The material which it's built on is durable and puncture resistant, so you don't have to worry of punctures. Moreover, it holds weight of up to 250 lbs, therefore providing a space for more children to play in.


Power Wheels Batman Dune Racer Review
Do you want to make real the super hero imaginations of your young ones? You can get them the Power Wheels Batman Dune Racer that offers fantastic Batman Graphics and styling. This Power Wheels Batman Dune Racer has a traction system which can be powered through wet grass, mud and gravel, therefore offering your young one an interesting off road experience. The Batman Dune Racer's has a strong steel frame and an open-design cockpit that guarantees enough room to accommodate your junior crime fighters. The powerful twelve volt batteries ensure your loved ones can go out on an adventure for hours. The kids can set off to any location their imagination can steer them to. The power wheels inspire confidence to the rider to hit the road. With this exceptional kid's toy, you can feel great letting your kids experience the thrill of independence in their own truck, car or ATV. They toy is designed to offer hours of fun and an unrivalled backyard adventure for your toddlers and other experienced drivers.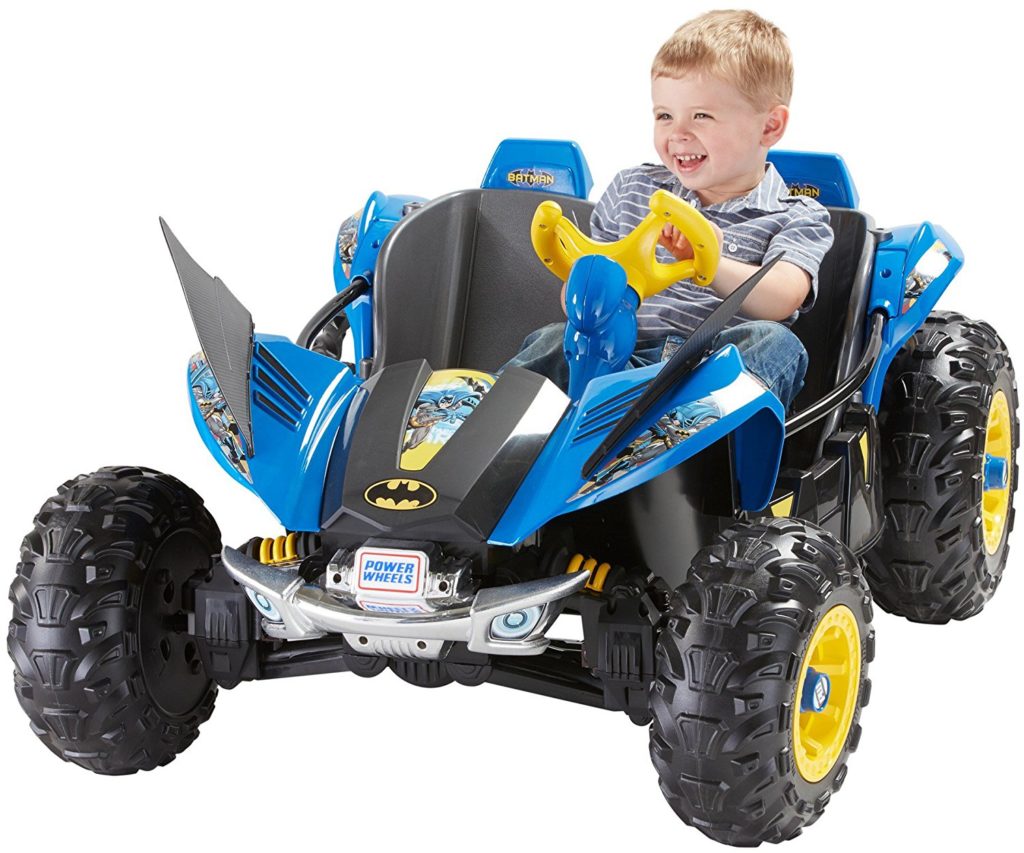 Features
Easy to install
The batman car is easy to assemble and it won't take you long before it's fully assembled. The instructions are direct and straightforward, therefore making it possible to be installed within a short period of time. You can put the battery to charge overnight and it will be good to go in the morning.
Superior performance
Power Wheels Batman Dune Racer drives excellently on the sidewalks and also in the streets. However, it gets a little slowed by mud. The battery performs superbly fine and will always last more than envisaged. Whether you are buying it for your 6 year old, three year old or both, you can rest assured that your loved ones will enjoy a unique kind of experience.
Cool looks
Power Wheels Batman Dune Racer is certainly one of the most revered power wheels for kids out there today. While the wheels are held up for improved ground clearance, it looks cool overall. In some instances, you can trade your double jogger for this and let your child drive as you jog on the track!
Safety and durability
This battery powered ride has a strong steel frame construction which can support up to 130 pounds. There sidebars offer the much needed hand support whiles the rounded edges and smooth contours protects your child from scratches and cuts. You kids can ride it for years, while offering them adequate room in the interiors. Your five year old child can get in with a friend and they will still feel comfortable inside there.
Pros
The car looks cool and works great.

The price is great for the features offered.

The assembly instructions are good and straightforward.

It's spacious and well designed.

The battery lasts for longer especially after it's fully charged.
Our Verdict
Power Wheels Batman Dune Racer offers a wide array of features such as roomy interior and big tires hence can move on grass and driveway without problems. It looks cool and the performance is excellent. It is constructed from robust steel, with smooth contours and rounded edges to minimize scratches. The price is great for the features offered. We recommend it to those who want to bring out the creativity and confidence of their kids.
Star Wars – Hero Droid BB-8 – Fully Interactive Droid Review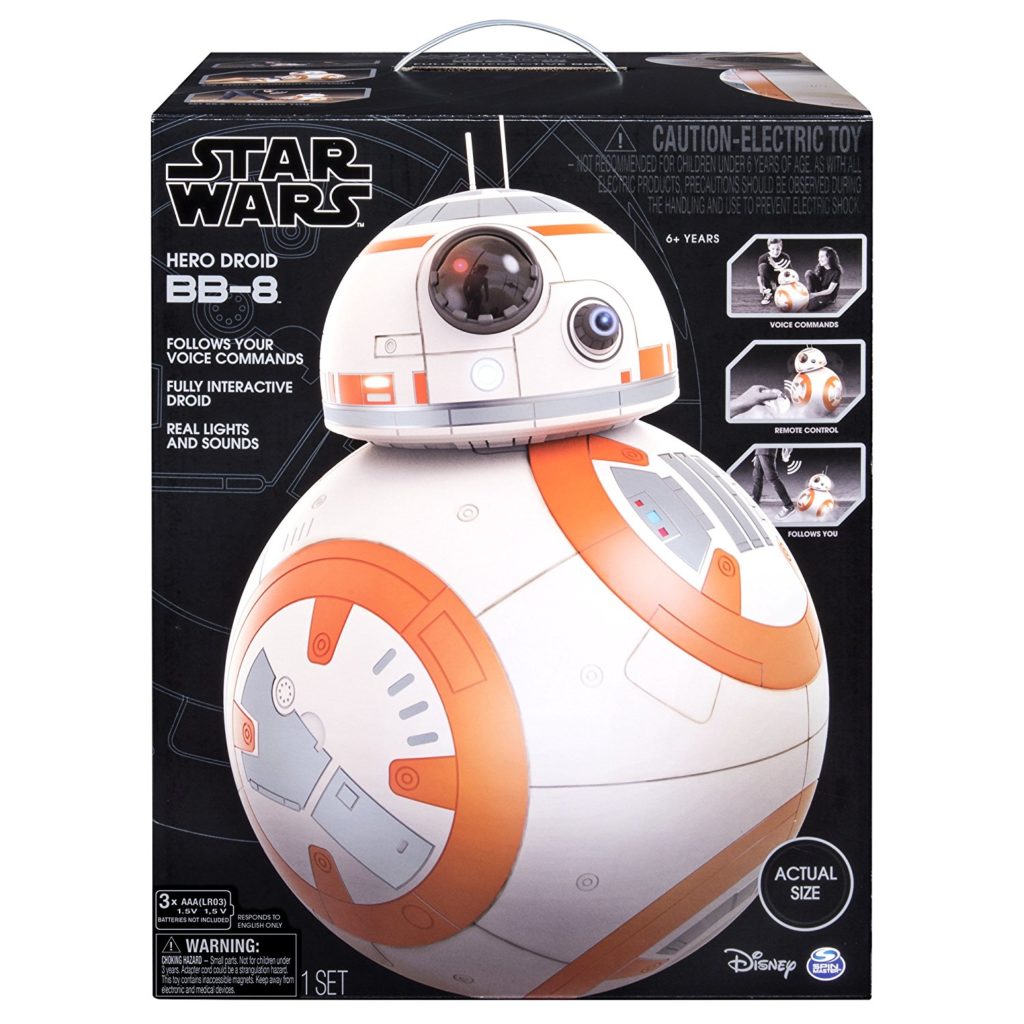 Bring home to your loved ones an iconic Star Wars character. Hero Droid BB-8, where Poe Dameron, who is an X-wing pilot is fighting for resistance in the Star Wars. This is an interactive and fascinating droid that offers a unique way to take home iconic characters from the popular Star Wars to your kids. It stands 19 inches tall and is capable of real interactions just as it is in the films. Set it to a "Me Mode" and it will roll besides you with exceptional levels of loyalty, just as it would follow Poe or Rey! With excellent remote control and voice recognition capabilities, it's completely interactive and is ready to get into action. Moreover, Hero Droid BB-8 has unique sounds and lights, together with film accurate aesthetics which makes it awesome for all fans no matter their ages. Take home your Hero Droid BB-8 and set off your youngness to a world of adventure! Hero Droid BB-8 is more suited to ages 6+ and can help them have unlimited enjoyment.
Incredible Hero Droid Bb-8 Features
Responsive to voice commands
The little droid has a mammoth personality. Your child can use his or her voice to request an action or engage the droid in a conversation. You can set Hero Droid BB-8 in different modes that include sleep mode, guard mode and many more. By having a loyal hero-droid on your child's side, he or she can issue the first order!
Easy to charge
Charge the Hero Droid BB-8 with a USB cable that is included when buying it. When connected, the indicator light changes from bright red to green. The body can be charged by using the wall mount charger cord, which is also included. After the red light changes from solid to flashing, Hero Droid BB-8 will be fully charged and ready to go.
Follow mode
Your kids can put Hero Droid BB-8 in follow mode and this awesome droid will run after you. Just have the remote control on the side of your child and this fantastic toy will follow him or her.BB-8 can move over smooth, even surfaces and is capable of a 360 degrees movement which is remote controlled.
Authentic replica with sounds and lights
Hero Droid BB-8 brings the wonder that is associated with Star Wars into your home. This outstanding droid makes sounds and lights up, just as is seen in the movies. The detailed features and top class paint application makes it interesting for all ages of adventure seekers, and most notable your young ones. The kind of lights and sounds produced are the same as what you would ordinarily see in world class movies.
Pros
Produces unique sounds and lights that are reminiscent of what your kids see in movies.

It can be set in different modes.

Can be charged with relative ease.

It responds to voice commands.
Our Verdict
Hero Droid BB-8 is a perfect choice for kids who love Star Wars. With its unique lights and sounds, together with various command modes, your child can have many hours of enjoyment. It is capable of 360 degrees movement.  It's one of those gifts that a six year old child will find to be irresistible.
ECR4Kids SoftZone Tiny Twisting Foam Climber Playset Review: Let Your Preschooler Explore Heights with Confidence
Many children of preschool age would love to explore new heights .This can be made possible by SoftZone Tiny Twisting Foam Climber. This is a beginner's climber with a platform where children can climb up and slide downwards safely. It has a place where a child can relax. Also included are a spiral staircase and a functional slide. Your child will find the selection of bright colors and shapes to be captivating and funny. With this fantastic foam climber, you can help your child accelerate the development of motor skills and social interactions. Your kids will definitely enjoy climbing up and sliding down.
Features of ECR4Kids SoftZone Tiny Twisting Foam Climber
Constructed from high density material
ECR4Kids SoftZone Tiny Twisting Foam Climber is build from dense polyurethane form which guarantees the safety of your children when they are exploring. Nonetheless, it's covered with vinyl bright primary and secondary colors that can be wiped clean with relative ease. It's one of the few kids play items that has been proven to exceed low emission standards that have been put in place by the regulatory authorities.
Easier, less challenging steps
ECR4Kids SoftZone Tiny Twisting Foam Climber provides your child with enough space to move high up the climber while learning. The available steps are less challenging, making it excellent for children who are just starting out their exploration journey. The lower steps are rough, making them slip resistant. Younger kids who are not able to use the ladder on the side will find the small steps provided to be of great value.
Easy to clean
The material which is used in its manufacture is super easy to clean. The material is soft enough, but strong to the extend that your child can crawl over it without fear of sinking.
Pros
It's awesome for  crawling or older babies

It's low enough that the child will remain safe even when there is a tumble.

The features offer value for money.
Cons
ECR4Kids SoftZone Tiny Twisting Foam Climber doesn't come with a floor-Velcro pad. This makes the pieces move apart relatively easy.
Our Verdict
ECR4Kids SoftZone Tiny Twisting Foam Climber is one of the best gifts that any parent can give to his or her kid of preschool age. It's made of a soft, but strong material that can be wiped clean easily. The manner in which the ladder or the steps are arranged makes it easier for a child who is just starting out.