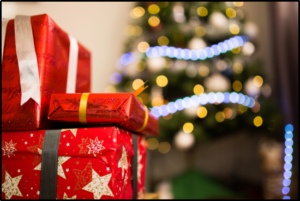 The coolest person in your life deserves the best. In case you're wondering, that's your dad! When money is not a problem, the possibilities are endless. But, that doesn't mean you can just grab scented candles or body lotion from the gift store. Men, and especially your dad will appreciate a gift that they can use. Something that will make their life easier or more enjoyable. Hopefully, you will find something worthwhile here. We have narrowed down your options for the best Christmas gifts for dad that will help you steal the spotlight from Santa this year. We have you sorted right here!
Garmin Approach S20 Golf Watch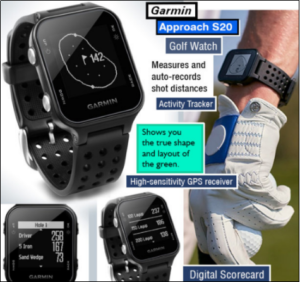 Features:
Combines elegant watchband design with high-resolution display and activity tracking
AutoShot round analyzer measures and auto-records shot distances
Pairs with Garmin TruSwing sensor for metrics to improve your swing consistency
CourseView feature automatically updates frequently played courses for free
Receive smart notifications for incoming calls, texts and other alerts
Battery life: up to 15 hours in GPS mode; up to 8 weeks in activity tracking mode
High-resolution display. View distances to the front, back and middle of the green, as well as hazards, doglegs and layups. Measure yardages for shots played from anywhere on the course
Garmin Approach S20 Golf Watch — Overview
Your dad has spent hundreds of TV hours studying the moves of Rory McIlroy and Tiger Woods on the green. Now, it's time to get him something that will really help improve his game. Your dad's going to appreciate the Garmin Approach S20 Golf Watch the next time he hits the golf course. This may just be the thing your dad needs to enjoy his game of golf, because it has just about everything that a golfer would need, neatly packaged in a stylish wristwatch. So, what makes the Garmin Approach S20 Golf Watch special? You ask. Well, from swing tips to course information, this wristwatch is smarter than your average golf player. Lost track of the score? The Garmin Approach S20 Golf Watch has a score keeper that keeps track of your score and can do so much more.  If your dad is a keen golfer, he's going to love the Garmin Approach S20 Golf Watch.
Tile Mate Key Finder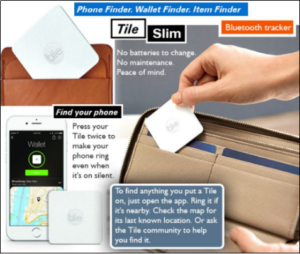 Features:
As thin as two credit cards, Tile Slim easily slides into your wallet, purse or pocket. Tile Slim can also be attached to a laptop, tablet, notebook or lunchbox. (Adhesives sold separately)
Use your smartphone to make your Tile Slim ring when it's nearby but out of sight.
Can't find your phone? Simply double press the button on your Tile Slim to make your phone ring – even on silent!
The easy-to-use, free Tile app remembers the last time and place it saw your Tile, so if you left it somewhere, you'll always know where to look.
If your Tile isn't where you left it, you can anonymously enlist the help of the Tile community in your search.
Tile Mate Key Finder – Overview
Because you can only get your dad so many neckties. Here's something that will really prove to be handy having around, the Tile Mate Key Finder. This nifty little thingamajig will save your dad many an hour trying to remember where the hell he kept the car keys. The next time your dad finds himself grumbling about the car keys, he'll just have to use his phone via the Tile Mate – Key Finder to find his keys, and he'll remember you. The Tile Mate – Key Finder uses an app that's installed on a smartphone and when activated, the keychain makes a loud beep that can be heard from even 200 feet away, so your dad is never going to be walking around the house looking for his keys again. The tile works vice-versa and you can also find your phone by tapping the Tile Mate – Key Finder which will activate the app in the phone making it ring so you'll know where you left it.
BioLiteCampStove 2 with FlexLight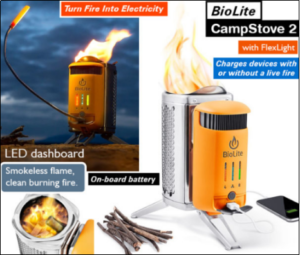 Features:
On-Board Battery – Integrated 2600 mAh battery charges devices with or without a live fire
Smart LED Dashboard gives you real time feedback on fire strength, power output and fan speed settings
USB Charge Out With 50% More Power than our previous bundle – updated thermoelectrics creates even more electricity from fire
Lightweight aluminum legs fold up for nested portability
4 fan speeds
BioLiteCampStove 2 with FlexLight — Overview
Every man needs to unleash his inner Bear Grylls (sometimes!). Rather than munching on raw fish, with the BioLiteCampStove 2 with FlexLight in toe, your dad won't need to fumble with pieces of sticks to get a fire going at the campsite. If your dad is already familiar with the camp stove, he'll be more impressed with this upgraded version of the BioLiteCampStove 2 with FlexLight. This camp stove was initially designed to make fireside cooking simple and enjoyable. It's powered by a battery that's wait for it…charges by the heat of the fire as it is burning. The camp stove also includes a portable 4-speed fan that gives you control over the fire it produces, a LED Flexlight that runs on a powerful built-in battery and it can also charge other USB devices. Genius!
Yaktrax Pro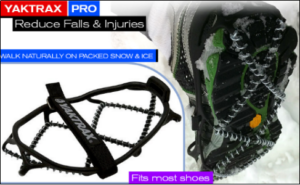 Features:
Spikeless, ultra lightweight design
360° of traction with patented skid lock coil system
Durable natural rubber outerband for flexible fit
Abrasion resistant 1.4mm steel coils
Removable strap ensures secure fit
Heel tab allows for easy installation and removal
Shaped coil
Yaktrax Pro – Overview
During the winter traction, cleats that fit over your boots and make it safer to walk or hike on snow is just what the doctor ordered. This is going to make a great Christmas gift for your dad, especially if your dad's living in an area of the country that receives snow during the winter. This is also an extremely affordable product which makes it a great gift, and it will prevent your dad from falling and getting injured, which is always good to know and makes it an easy decision. Furthermore, this is going to be a real winner if your dad happens to like the outdoors and hiking through snow and ice.
Mr. Coffee ECMP1000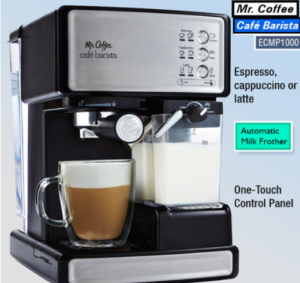 Features:
The Drip Catcher is a removable, washable drip tray to collect coffee drips and keep brew space neat and clean
Removable Water Reservoir fills easily at the sink and hold enough water to brew shot after shot
Removable Milk Reservoir fills, cleans and stores easily
One Touch Control Panel for single or double shot options of espresso, cappuccino or latte
Includes Single Shot Filter, Double Shot Filter, Measuring Scoop, Tamper, Coffee Recipes
Automatic Milk Frother is absolutely effortless for frothing up milk in creamy cappuccinos and lattes
Adjustable Cup Tray can be set at just the right height for any size cup
Overview
Who doesn't appreciate a good coffee machine? The Mr. Coffee ECMP1000 is just the thing you need when it comes to preparing a delicious cappuccino or expresso at first light. In fact, the gadget is so well designed that it will turn even a novice into an expert barista. The Mr. Coffee ECMP1000 is extremely easy to use and is very compact and lightweight as well. But what really sets the Mr. Coffee ECMP1000 apart from the rest is its many features that makes it easy for the user to prepare the perfect cup of coffee. The Mr. Coffee ECMP1000 comes along with an automatic milk frother that's used to prepare cappuccino along with other coffee drinks. You can bet that this gift is going to give your dad a new reason to be proud of you.
Black & Decker BDCDMT1206KITC Matrix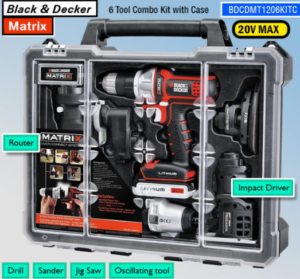 Features:
Lithium Ion Battery – holds a charge up to 18 months
MATRIX Quick Connect System allows quick and easy change of a variety of attachments
Powerful 20V MAX* motor for the performance needed to complete DIY activities
This power unit is driven by a 20V MAX* motor which provides enough power for a full range of applications and attachments
Overview
If you've heard your dad grumbling about his tool kit, then you're in luck. The Black & Decker BDCDMT1206KITC Matrix is your quintessential tool kit that any man who likes to work with his hands will appreciate. This tool kit is brought to you by Black and Decker, who are at the forefront of designing portable and useful household tools. But, what makes the Black & Decker BDCDMT1206KITC Matrix stand out from other household tool kits is its excellent designed tools, all of which have been crafted keeping the user in mind. The power tools have been made from high quality materials, have a sturdy and robust design, and have been built to last. The Black & Decker BDCDMT1206KITC Matrix could easily be your number one choice when it comes to choosing a gift for dad since you are not going to get one, but six durable and robust power tools that's definitely going to come in handy around the house.
Stanley J5C09 Jump Starter/Air Compressor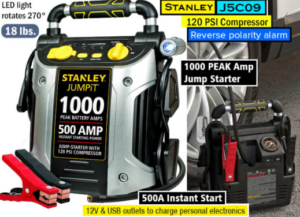 Features:
Offers both 12-volt and USB outlets to charge personal electronics
High-powered LED light that rotates 270 degrees
120 PSI Compressor with Backlight Gauge
Heavy-duty brass tipped SureFit compressor nozzle securely connects to tire valve stems
Reverse polarity alarm to alert when there is an improper connection
Power and charge indicator
All Metal Powder Coated Clamps
Built- in 120V AC charger, recharges unit with standard household extension cord
Overview
The Stanley J5C09 Jump Starter/Air Compressor is going to be a welcome addition to any tools in the shed (or rather, the car!).The powerful jump-starter kit is just the thing you need when your car's battery fails while on the road. The Stanley J5C09 Jump Starter/Air Compressor is not only essential to keep on moving even if the car battery fails, but the addition of a powerful compressor can be used to pump air into the tires if you have a flat. The practicality of the Stanley J5C09 Jump Starter/Air Compressor is what makes it such a good choice for a gift for your dad, and the best thing, it doesn't even matter if your dad loves cars or not.
36" Unger Professional Nifty Nabber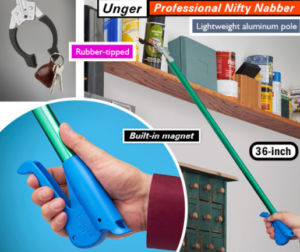 Features:
Lightweight aluminum pole features rubber-tipped grippers to prevent damage
Ergonomic grip
Built-in magnet picks up metal objects
36-inch Nifty Nabber reaches items low and high
Overview
The Unger Professional Nifty Nabber is good choice for a gift for old folks. Mainly because it does away with the need to look for a stool or chair to climb on when trying to reach something that's not at an arm's length. The Unger Professional Nifty Nabberis particularly useful for those who are suffering with backaches while clearing up the yard, although that's not all the 36" Unger Professional Nifty Nabber is good for. This is yet another versatile gift that will be appreciated because of its incredible practicality.
Dewalt DCS7485T1 FLEXVOLT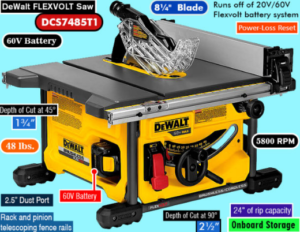 Features:
24″ of rip capacity for ripping 4×8 plywood or OSB sheets
Metal roll cage base offer greater durability than plastic bases
On board storage for Guard, Fence, wrenches and miter gauge
Power-Loss Reset prevents accidental re-starts following a power disruption when the switch is left in the "on" position
Rack and pinnion telescoping fence rails make fence adjustments smooth and accurate
Run off of 20V/60V Flexvolt battery system for maximum portability
Site-Pro Modular Guarding System allows for tool free adjustment of the guarding
Table coating reduces friction for smoother cutting
Overview
OK, so the Dewalt DCS7485T1 FLEXVOLT isn't going to be the cheapest gift on the list. But, if money is not an issue when selecting a gift for dad (and it shouldn't!), then it is definitely worth every penny. Besides, if your dad fancies himself a handy carpenter the look on his face when he lays eyes on the Dewalt DCS7485T1 FLEXVOLT is going to be priceless. All you need to do if you've got doubts on this device is to read the many, many positive reviews that are online about the Dewalt DCS7485T1 FLEXVOLT. That alone makes it safe to say that the power tools by Dewalt are exceptional and worth every penny. To spare you the details, all you need to know is that this particular power tool is so far ahead of its time that nothing comes even close to its quality, efficiency and affordability.
Ending Note
So, there you go, with Christmas just around the corner, these are some of the top rated gifts for dad that's going to leave him ecstatic, or glad you didn't get him a damn 3-tie box set again.