The grill market offers many options these days, some of which are low cost while others are pricey. One of the options that combine functionality and affordability is Broil-Mate 165154 LP Gas Grill. It's a well designed and built grill with a dual control burner and a cast aluminum body, allowing for dual-zone cooking. This grill is durable and you can expect to get several years of excellent grilling from it. It offers huge heat output and the temperature gauge is adjustable. Continue reading and find out what makes this basic grill attractive.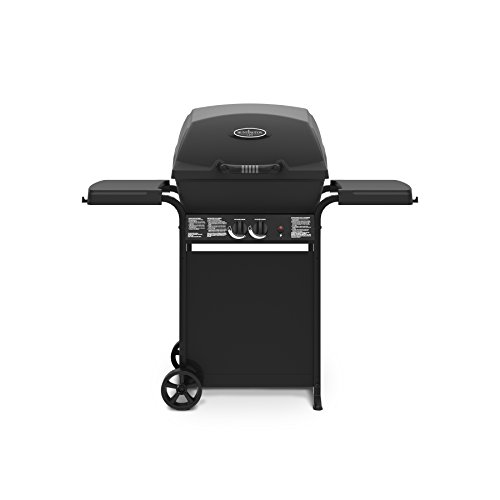 Broil-Mate 165154 LP Gas Grill Features
1. Superior heat output
This grill offers superior heat output and you can rely on it to offer an excellent service all year round. Your foods will be cooked evenly and within the right time frame. The maximum heat output from the stainless steel burners is 40,000 BTUs and the design ensures that heat can reach your food in all parts of the grill.
2. Spacious cooking area
The total primary cooking area that Broil-Mate 165154 LP Gas Grill offers is 400 square inches. Although this space is moderate, it's decent by all standards and can serve the grilling needs of most families who want to enjoy well cooked grilled food all year round.
3. Reliability
Broil-Mate 165154 LP Gas Grill is reliable and guarantees you a superior performance. It cooks many kinds of foods and there are minimal flare-ups, if any. You can use it many times a day and you will still get consistent results.
4. Flavor-R-Wave heat tent
This is made of high quality and durable stainless steel material and helps to sputter drippings and diffuse heat. The cooking grates are made of cast iron and coated with porcelain.
5. Resin shelves
This comes with integrated hooks where you can store your cooking tools and spices among others. These shelves are easy to clean and hold everything that you need to keep cooking for longer.
6. Electric ignition
You can start Broil-Mate 165154 LP Gas Grill quickly and effortlessly with the available electric ignition, which ignites the flame in the burners within just a small fraction of time.
Pros
Faster electric ignition
Resin shelves for storage
Flavor-R-Wave-heat-tent
Impressive two burner grill
Porcelain cast iron grates
Durable aluminum body
Spacious cooking area is provided
40,000 BTUs of heat
Our Verdict
This unassuming cooker is solidly constructed and offers powerful burners that guarantee faster grilling. The push button igniter is pretty easy to use and works all the time. The grill heats faster while the temperature gauge helps before and when you are grilling. No matter what you want to grill, Broil-Mate 165154 LP Gas Grill will always deliver awesome results.
Are you looking for a reliable and sturdy dual tube stainless steel burner grill that can assure you of great performance for longer? This burner comes with three burners with total of 13,000 BTUs of heat that offers uniform heating. The built in cast iron grates ensures excellent heat transfer. The fire box design holds heat and enhances the cooking abilities of this grill.

Broil-King Signet 320 Features
1. Electronic ignition
Broil-King Signet 320 has an electronic igniter that makes it possible to start the grill easily and effortlessly. The heavy duty cast iron grates ensures that the heat from the burners is maintained for longer hence delivering faster and better cooking.
2. Good size
This Broil-King Signet 320 is of great size for anyone who is interested in getting a good sized grill. The total cooking space measures 635 square inches, making it enough to prepare meals for an entire family at once. It gets hotter faster and the fantastic heat output ensures that you can sear with a lot of ease. There is a linear flow valve control that allows for tremendous temperature control.
3. Stainless steel burners
This grill uses dual tube stainless steel burners, making it unique when compared to competing options. This burner gives you a heating capability that no other burner can. The tube distributes gas evenly, thanks to its amazing design. These burners should serve you for many years and are made of single stainless steel without connections. This reduces the occurrence of rust.
4. Durable body
The body of this awesome grill is a combination of stainless steel and aluminum. This guarantees a level of durability that is hard to match by the competition. You can rest assured that it won't rust and will provide you with years of convenient grilling experience. Other components that make up this grill are designed for durability.
5. Foldable side tables
Broil-King Signet 320 has side tables that can be folded to create more space. This reduces the amount of space that this grill occupies when it is not in use. However, when using the grill, the side tables help you hold many items that are crucial for your cooking.
Pros
Stainless steel burners
High quality construction with durable components
Heavy duty cooking grates
Functional aluminum lid
Foldable side tables
Our Verdict
Broil-King Signet 320 is a grill worthy of the attention of any grilling enthusiast. It comes with hordes of features that include steady production of heat, large cooking surface, foldable side tables, an aluminum lid and high quality construction. All the parts that have been used to build this incredible grill are durable and will last for years. When these awesome features are combined with the pocket friendly price which this gas grill sells at, there is no doubt that anyone will find it irresistible.
Broil King Baron 3-Burner 320-S is the simplest and the most compact version from the Broil King's Baron Line. This three burner gas grill offers solid stainless steel construction and porcelain coated cooking grates. Among the most prominent features that Broil King Baron 3-Burner 320-S offers are aluminum end caps, side tables, control panel, hood and porcelain steel construction. This stylish grill is recommended for those who want to cook tasty meals for a small group of people.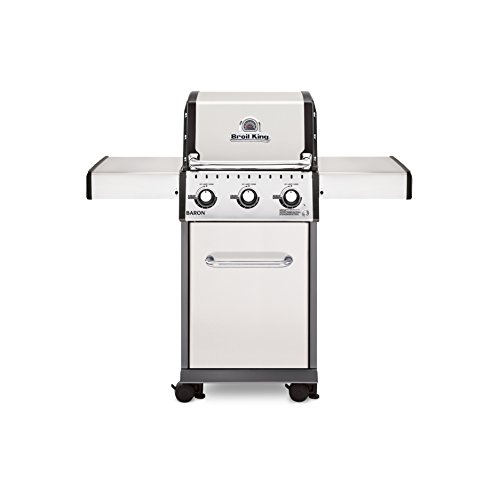 Broil King Baron 3-Burner 320-S Features
1.10,000 BTU
This gas grill supplies 10,000 BTUs of consistent heat from three burners that ensures that food being prepared in the entire cooking space get properly heated.
2. Bigger cooking area
This gas grill offers 330 square inches of the main cooking area, making it good enough if you want to prepare meals for a small group of people. If you regularly host parties of family get together sessions, Broil King Baron 3-Burner 320-S may not be the best option for you.
3. Fold down side tables
When you aren't using the griller, you can fold down the side tables and stash it away. This helps in saving you of space since the amount of space that it takes after the side tables are folded is reduced drastically.
4. Superior features and construction
This model features superior construction and features that makes grilling interesting and worth trying. From the exterior aluminum body to the stainless steel burners and anything between, Broil King Baron 3-Burner 320-S has been designed to last and deliver exceptional grilling performance. This model delivers steady heat which ensures that you get perfectly grilled food consistently.
Pros
Electric ignition
Foldable side tables
Porcelain steel construction
Stainless steel doors
Detailed control panel
Pocket friendly price
Our Verdict
This USA made grill offers a variety of features that make grilling fun and memorable. The porcelain steel construction, stainless-steel doors, highly detailed control panel and side tables are among the many features that this sturdy and well designed grill offers. The foldable side tables helps reduce minimize storage space requirements while the electric ignition makes starting quick and efficient.
Broil King Signet 90 Gas Grill provides all the features that are necessary of a backyard cooker, with a few more extras. These grill boats of superior construction and three burners. It also has some specific features such as rotisserie that make it a fantastic choice for certain specific cooking options. The grill looks great and provides for a stellar grilling experience.

Broil King Signet 90 Gas Grill Features
1. Better heat retention
The heating components in this grill retain heat much better and this makes it possible to achieve high grilling performance all the time. This compensates the burners that are a little slower to heat. However, after getting heated, the grates leave a real nice searing pattern on the meat that you are cooking while also making sure that it's uniformly cooked.
2. Temperature gauge
Broil King Signet 90 Gas Grill has a built in temperature gauge which makes it possible for you to monitor the gauge before and after you have started grilling. There are grates that are made of high quality steel and which can be cleaned easily. The gas tank fits perfectly well, so you don't have to worry about it. Once you place it in there, it stays firmly in place.
3. Extra rotisserie kit
This kit is included in the package and ensures that you can cook your meat without much hassle. This kit moved round while fixed inside the grill's cooking area and ensures all parts of the meat that you are grilling receives enough amount of heat and gets perfectly grilled. With other grills out there, you will have to buy it separately, but it's shipped with Broil King Signet 90 Gas Grill at no additional cost to you.
4. Spacious interiors
This Broil King Signet 90 Gas Grill has a high lid that offers a lot of room for grilling burgers and roasting chicken at the same time. This means you have the space you need to prepare meals for an entire family at ago. This also saves you monumental amounts of time. On average, this grill makes 15 hamburgers while the warming tray is enough for ten buns.
5. Solid construction
The Broil King Signet 90 Gas Grill is solidly built, with beautifully designed features. The end section has a table that can be used to hold paper towels so that they aren't blown away. The burners and the housing material are made of stainless steel and that is resistant to wear, tear and rust. The cooking grates are also rust resistant as they are made of cast iron coated with porcelain.
6. Comfortable height
The lid in this awesome Broil King Signet 90 Gas Grill sits in a comfortable height and this is awesome for taller people. You can open it while standing, as it's quite raised. The signer is also smaller than most grills of its type, making it somewhat easier to store. It can fit into your balcony, garage or any other convenient storage space.
7. Manufacturers warranty
The main burners have a five year warranty while the parts and paint have two. This offers peace of mind knowing that you are buying a product with a fully backed manufacturer's warranty.
Pros
A functional temperature gauge is included
The tall height makes it comfortable for most users
The construction is solid and sturdy
Spacious cooking area
An extra rotisserie is included
The price is quite affordable
Cons
This grill is heavy and weighs 138 pounds
The Signet 90 Gas Grill is not very mobile
Our Verdict
This grill is well constructed and has a number of extra features that makes grilling of certain specific foods possible. The temperature gauge, high heat supply and the spacious grilling area makes Broil King Signet 90 a grill worthy of your consideration. The available manufacturer's warranty and the pocket friendly price are among the reasons for the popularity of this cooker. This is an option that we highly recommend to any person out there who loves grilling.