Buying for men can be tough. We've compiled a list of some of the best gift ideas that will make sure you come away with the perfect gift. Since Christmas is just around the corner, we thought we'd put together a list of lustful gifts any man who loves the outdoors will appreciate.
The Best Gifts for Men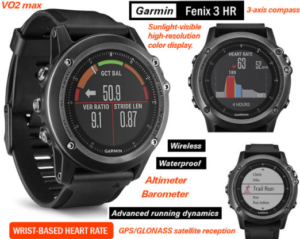 Features
2-inch sunlight-readable Garmin Chroma Display with high-strength domed sapphire lens
Omni-directional stainless steel EXO antenna, with GPS/GLONASS satellite reception
Elevate wrist heart rate technology measures heart rate at the wrist
Advanced running dynamics with vertical oscillation and vertical ratio, VO2 max, recovery advisor and more
Outdoor navigation features like 3-axis compass, altimeter and barometer and TracBack
Long battery life of 40 hours in UltraTrac battery saver mode
Overview
The Garmin Fenix 3 HR GPS is a nifty little gadget to have mainly because it can do so much. Packed inside an elegant wrist watch, the Garmin Fenix 3 HR GPS is the ultimate gift for the outdoorsy man. It can measure your heart rate, and also provides all sorts of useful data to men who love swimming, cycling or jogging. The wrist watch has been built to last and it's easy to see that it has been designed for the demanding conditions men who love the outdoors find themselves in. This is one gift that is definitely going to be appreciated.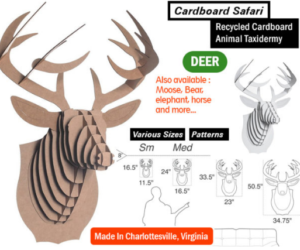 Features:
Laser Cut and Flat Packed
Made from 100% Sustainable Forestry Initiative Certified
DIY Possibilities Are Endless
Detailed instructions included
Overview
In many cultures, the deer is considered a symbol of spiritual authority, which makes this Deer model the perfect gift. This will make the perfect present, if the person you are giving it to enjoys building models, and there are plenty of men like that out there. The cardboard deer model is basically a decorative taxidermy replica that after constructed, can be hung on the wall. The entire kit is made from recycled paper and wood so there's no damage done to the environment, and in case you were wondering, no deer were harmed in the making of this product either.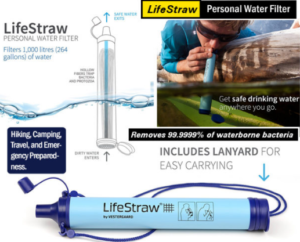 Features:
Award-winning LifeStraw
Filters up to 1000 liters of contaminated water without harmful chemicals such as iodine, chlorine, or other chemicals
Removes a minimum of 99.9% waterborne protozoan parasites and filters to an amazing 0.2 microns
Removes minimum 99.9999% of waterborne bacteria
Surpasses EPA standards for water filters
Comes in a sealed bag, perfect for storing for emergencies
Overview
This is another great gift for the man who loves to camp or hike outdoors. The LifeStraw Personal Water Filter can be useful for anyone, which makes this a neat gift option. What the LifeStraw Personal Water Filter is basically a stray that can be used for drinking water, which also happens to purify water. Whether it's hiking, hunting or camping, the LifeStraw Personal Water Filter will make sure you always have clean drinking water at hand. The nifty little device is small enough to be fit in one's pocket, so it can easily be carried along wherever you go, especially in the wild outdoors.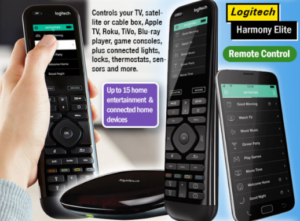 Features:
Well-designed and well-lit remote control layout
Watch TV Activity uses the channel buttons to control your set-top box, the volume buttons to operate your AV receiver, and the home control buttons to adjust your Hue lights
Let's you control up to 15 home theater and connected home devices, from HDTVs and music players to lights, locks, Blu-ray players, as well as connected lights, locks, thermostats, and sensors
Switch to your favorite channels and between gaming, Netflix, Apple TV, and virtually any device
Sleekly designed and featuring a color touchscreen with motion-sensing backlit keys, and one-touch automation
Equipped with a long-range reach so you can control devices behind walls or closed cabinets
Create groups of devices that can be turned on or off simultaneously thanks to the Activities function
Control your devices remotely using the iOS or Android mobile app on your smartphone
Compatible with over 270,000 devices, from Apple TV and Roku, to gaming consoles and
Activities include Away mode (for turning devices on or off while you're away from home),
Overview
Having three or four remotes lying around makes no sense, especially when technology has now enabled us to control everything with a single remote. That's right, welcome to the future! The Logitech Harmony Elite has replaced not one but many a remote control we'd see lying around the house. This is good news for those who can't keep track of which remote control is which, and often get confused as a result. The Logitech Harmony Elite is in fact, the ultimate in remote control technology any man will be happy to have. The remote cannot only control your TV, but can sync with almost all electric devices, including home automation systems that can then be controlled by a simple press of a button, or via the Android /iOS app that comes along with this useful device.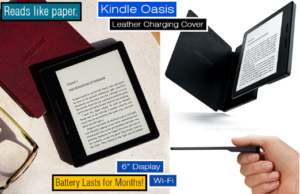 Features:
All-new ergonomic design with dedicated on/off buttons
Enhanced built-in adjustable light evenly illuminates the screen for perfect reading
High-resolution 300ppi display with crisp, laser quality text
Reads like real paper without glare, even in direct sunlight
Prime members read free with unlimited access to over a thousand titles
Longest Kindle battery life–the included leather charging cover can boost battery to months.
Overview
This is officially the thinnest and lightest Kindle ever built. The Kindle Oasis E-reader is your quintessential e-reader and for good reason. Even if the person you are about to gift the Kindle Oasis E-reader to already has a Kindle, they are going to appreciate the sleek, lightweight design of the Kindle Oasis E-reader, which makes reading so much easier. The e-reader is a premium product, and that's easily recognizable with its appearance and classy leather cover. The compact e-reader also features an extra-large battery, which translates to more battery life, something that's always nice, especially when it comes to e-readers. With the Kindle Oasis E-reader, Amazon brings many new improvements which will put a smile on the face of any avid reader.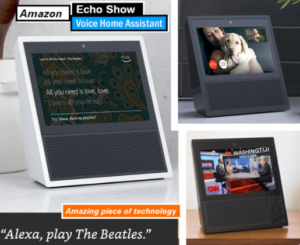 Features:
Echo Show brings you everything you love about Alexa, and now she can show you things. Watch video flash briefings, Amazon Video content, and YouTube, see music lyrics, security cameras, photos, weather forecasts, to-do and shopping lists, browse and listen to Audible audio-books, and more.
Ask Alexa to show you the front door or monitor the baby's room with compatible cameras from Ring and Arlo.
Turn on lights or the TV, set thermostats, control Amazon Video on Fire TV, and more with WeMo, Philips Hue, Sony, Ecobee, and other compatible smart home devices.
Make hands-free video calls to friends and family who have an Echo Show or the Alexa App, and make voice calls to anyone who has an Echo or Echo Dot.
Powerful, room-filling speakers with Dolby processing for crisp vocals and extended bass response. Play your music simultaneously across Echo devices with multi-room music (Spotify and Sirius XM support coming soon, Bluetooth not supported).
See lyrics on-screen with Amazon Unlimited Music.
Just ask to play a song, artist or genre, and stream over Wi-Fi. Also, stream music on Pandora, Spotify, TuneIn, iHeartRadio, and more.
With eight microphones, beam-forming technology, and noise cancellation, Echo Show hears you from any direction — even while music is playing
Overview
If your friend is a tech junkie who appreciates a nice gadget, then the Amazon Echo Show is certainly one gadget that they will appreciate. The Amazon Echo is going to be the new mistress of the house…digital mistress that is. If you thought that the previous iteration of the device was amazing, you will be dumb-founded after you've seen what the all new Amazon Echo Show, which now has a face and eyes, can do. The face is not real, since it's a device, the face of the Amazon Echo Show is its super clear screen, while a camera functions as the eyes of the Amazon Echo Show, and is what it will use to provide many of the amazing functions being introduced with the device.
In many ways, the Amazon Echo Show is similar to a tablet, although it still cannot be called a mobile device. The Amazon Echo Show is bulky and is meant to be kept in one place without constantly moving around. This is where its voice activation software comes in. Now, users can give commands to the Amazon Echo Show by simply talking to it. If you have a friend who is obsessed with technology, the Amazon Echo Show is going to win you his respect for sure.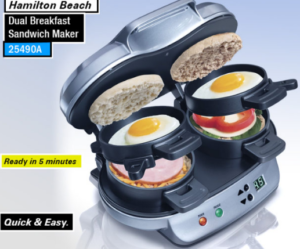 Features:
Makes 1 or 2 sandwiches
Ready in 5 minutes
Cook delicious breakfast sandwiches in the comfort of your own home
Use your own fresh ingredients, including eggs, cheese, and much more
Countdown timer with audible beep
Quick and easy recipes included
Easy cleanup – all removable parts are dishwasher safe
Overview
Nowadays, most folks lead hectic lives, and are constantly on the go. Meaning they do not usually get a chance to prepare breakfast, often grabbing something from that sandwich shop. Since breakfast is the most important meal of the day, the person you present the Hamilton Beach 25490A to is certainly going to appreciate the effort you took to pick out something that's actually useful (not that the other item's on here aren't). When it comes to preparing meals, most men prefer to speed up the process in the kitchen, so that they can get on with their day. Keeping that in mind, the Hamilton Beach 25490A has been designed keeping the modern man in mind. The Hamilton Beach 25490A takes away all the hassle of having to prepare a burger or toasted sandwich, allowing you to prepare a delicious burger or sandwich in the lowest time possible without any fuss. Hamilton Beach 25490A, where were you all my life?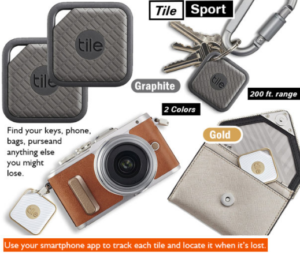 Features:
Find your phone with ease
Tile Style has a 200ft. range
Louder than ever, making it easy to find when it's nearby
The Tile app remembers when and where you left something behind.
The Tile Community is your very own search party: With millions of users
Waterproof and durable.
Syncs with Samsung, iPhone, iPad, iWatch, iPod Touch and others.
Overview
Anybody who claims that the Tile Sport Key Finder isn't a handy device is lying. The Tile Sport Key Finder is used by attaching the small and lightweight device to your keychain and it will make your phone ring if you can't find it. How many times have we been in a situation where we are running late but can't seem to find our car keys or our phone? The Tile Sport Key Finder comes with its very own app so it can work either way. Whether you've lost the keychain or your phone, you can make either of the devices ring, thanks to the Tile Sport Key Finder, to easily find your lost car keys or your phone. What's more is the Tile Sport Key Finder has a range of up to 200 feet, which makes it an incredibly practical gift for not just men, but anybody.

Features:
Rugged and reliable with tough stainless steel construction
Nylon belt case Included with belt loop
Tool lock for added protection
Philips head screwdriver, needle nose spring loaded pliers, can opener, a saw, wire cutters, bottle opener, medium slotted screwdriver, small straight edge blade, metal file, large slotted screw driver, ultra-safe locking mechanism, mini slotted screwdriver, large straight edge knife blade.
Overview


You never know when you would need the assistance of a sharp knife, especially if you're out in the woods. The Hoffman Richter HR-100, 13-in-1 Multi-tool offers you so much more than just a plain old straight blade knife. With the Hoffman Richter HR-100, 13-in-1 Multi-tool, you get a whole line of nifty tools that are really useful for those who like to go camping, hiking or hunting. With everything from a saw to a screwdriver and bottle opener, the Hoffman Richter HR-100, 13-in-1 Multi-tool is one tool you would definitely want to have in your pocket when you're taking a trip outdoors. Keeping that in mind, giving the Hoffman Richter HR-100, 13-in-1 Multi-tool as a gift to your friend will win you bragging rights the next time you meet up at the bar.
Ending Note
So, there you have it. These were some of our picks in useful gifts for men. You can choose from any one of the gift ideas given here the next time you have to buy a gift for your buddy, brother or dad and impress them with your choice.