Some homeowners may prefer the traditional gasoline generator, and why not. It's affordable, compact and runs on regular gasoline. But for others, the propane generator seems like a better option. When you consider the cost of maintenance and fuel, going with the propane powered generator does seem like a more viable option. Since both these generators have their advantages, let's take a look at the propane powered generator and what it offers for homeowners.
While all portable home generators need some form of fuel in order to run, they all seem to have a somewhat negative impact on the environment. This is the main reason behind the popularity of propane powered generators in recent years. Not only the environmental concerns of many homeowners, but also the rising prices of gasoline is also the driving force behind the growing trend of homeowners moving towards propane powered generators rather than sticking to the more traditional options. The concept of using propane gas to power a portable generator that was originally designed to work on natural gas is not a new one. For instance, in Australia, cars have been working on propane powered engines for decades. In fact, Australian gas stations sell both gas and propane pumps as well.
One of the main reasons why propane powered generators are preferred by homeowners is because it burns cleaner as compared to other fuel sources that emit low levels of harmful greenhouse gases. But, there are also several advantages to using propane powered generators for your home. Besides the fact that propane has an unlimited shelf-life. So, if you need to store fuel for an emergency, it is possible to store fuel for your propane powered generator for an indefinite amount of time without any hassle.
Another major advantage of using a propane powered generator is the safety it offers to all members in your home. It is well known that gas cans do release built up fumes, but that's not the case when it comes to propane tanks since they are completely sealed, meaning no toxic gases can escape from the propane tanks. This also means that there will be no fire hazards associated with storing propane gas. And as if all that wasn't enough, another benefit of using propane powered generators is that propane is stored under pressure.
Since it is more compact than other fuels you can store more in small volume tanks. For instance, a 20-pound propane tank can give up to 50% more runtime as compared to a 5-gallon gas can. That's a huge difference when you consider the high costs of gas. The portability of propane also means that the containers in which it is stored requires less storage space and can be easily transported when going on camping trips or for your home.
Most of the home generators which have been designed to run on propane are considered hybrid generators since they can work on both gas and propane, making them dual-fuel generators. The versatility of the propane powered generator is what sets them apart from other generators since both the fuels used are affordable, with propane being even more affordable as compared to gas as a power source for the generator. That being said, while having dual-fuel generators does come in handy, the fact is that you can refill your propane container from almost anywhere without much of a hassle. But you can also get generators which have been designed to work only on propane. This means that they do not have a gas tank or the pipes that comes along with it for using gas. As compared to the duel-fuel generators these generators will be cheaper and the best part is you can go to any gas station and fill your propane tank once it is empty.
Now, that we've gone through all the reasons why propane powered generators are best for you, let's take a quick look at some of the propane powered generators that have been designed specifically for home use. So, let's get started.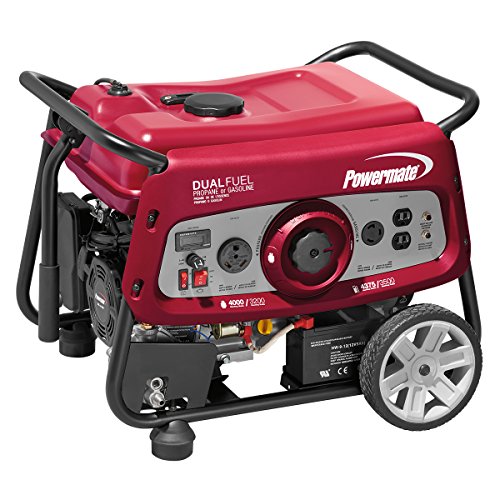 Features:
Engine Displacement: 420 cc
Run time 6 hours @ 50% load with a 20lb tank
Electric Start; Battery Included
12″ Never flat wheels for easy transport on all surfaces.
Digital multimeter tracks maintenance service intervals.
Covered outlets provide protection from the environment.
1 1/4 Frame provides strength and durability.
Overview — Powermate PM0135500
The Powermate PM0135500 can provide a massive 5500W power with a peak of 6875 watts. This alone ensures that you get the best value for your money. The massive power of the Powermate PM0135500 allows you to easily power home appliances such as the refrigerator and room air conditioners simultaneously, without any fear of overload to the unit. And that's not all, while you power these high current devices, you will also be able to power other important appliances around the house such as kitchen appliances etc.
Exceptional Power Management
With the Powermate PM0135500 you get a unit that is able to power up more appliances in your home than most generators available in the market today. Apart from being useful in the home or for powerful up appliances in the RV, the Powermate PM0135500 will also keep quite a few high wattage tools running at a construction site as well courtesy of the powerful 420cc engine and a 20 lbs. propane tank that can store quite a lot of fuel.
High Run Time
Thanks to the powerful engine and the large 20 lbs. propane tank you can expect as much as six hours of power at 50% load. But this should only be considered as the minimum, since homeowners will normally be using less than 50% of the Powermate PM0135500 to power their appliances when the power is out.
Long Lasting, Durable Build
The Powermate PM0135500 has been build keeping the user in mind. This means you have easy to use controls and a build quality that is second to none at its price point. As far as propane powered home generators go, the Powermate PM0135500 is in a class of its own, offering power, and a top-quality build that is sure to last you years. The Powermate PM0135500 comes with a handle that allows you to move the unit around the house if needed and the sturdy wheels and thick rubber resting feet means that the vibration for the machine can be reduced significantly.
Electric and Recoil Starter
The Powermate PM0135500 features both an electric and recoil starter so you can start the unit either way without any hassle. This also means that you can start the unit even if it has been kept away from a while and the battery runs flat. While it will require some elbow grease on the user's part, at least you can get the generator started.
Multiple Household Outlets
The Powermate PM0135500 has an easy to understand control panel where you get all the information you need. The Powermate PM0135500 has multiple outlet options for home users as well. You get the duplex 120V 5-20R outlet, which giving you two-standard household outlets along with the 120-240V L14-30R outlet and the RV adapter just in case. The outlets also come with their own covers to keep them safe from the elements such as dust and moisture. But, there is no 12V or USB charging outlets which is a downside to the Powermate PM0135500, but certainly not a deal breaker.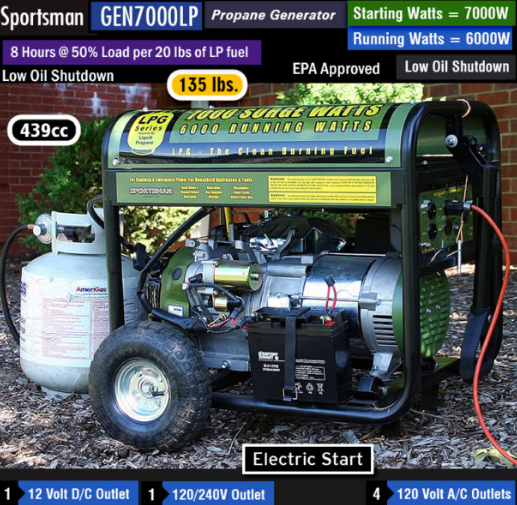 Features:
13-HP 4 Stroke OHV Engine
7000 Surge Watts / 6000 Running Watts
Electric & Recoil Start
Automatic Low Oil Shutdown
Automatic Voltage Regulator
Engine Shut-off Switch
EPA Approved
Engine Run Time: 8 Hours @ 50% Load per 20 lbs. of LP fuel
Overview — Sportsman GEN7000LP
The Sportsman GEN7000LP is another sturdy and reliable option when it comes to propane powered generators for home use. The Sportsman GEN7000LP offers plenty of options and features that users are sure to appreciate, which makes using the unit less complicated.
Robust Build Quality
The Sportsman GEN7000LP is a top-shelf product which offers a lot in terms of features, but that's not the only reason why you should get the Sportsman GEN7000LP. While it will cost you more than the standard fare, the Sportsman GEN7000LP is worth every penny in terms of quality and design. The Sportsman GEN7000LP has been built to last with premium quality materials and lots of power. This unit is ideal for powering up high current equipment with its extra watts making all the difference when getting uninterrupted power is the need of the hour. The Sportsman GEN7000LP weighs a hefty 135 lbs. so it's a large unit, but the handles and the fantastic grip make it easy to move around.
Powerful, 4-Stroke Engine
The Sportsman GEN7000LP has a powerful 4-stroke engine that's OHV approved. Needless to say, that the Sportsman GEN7000LP is not a dual-fuel engine, but works solely on propane. The unit offers safe storage for the propane and additional safety features which is a welcome addition for any propane powered generator.
Features Both Electric and Recoil Starters
Getting generators started during the cold winter months can be quite a challenge regardless of the power source of the generator, but the Sportsman GEN7000LP makes it easy with its electric and recoil starter options, which makes starting the unit a breeze.
An Array of Power Outlets
One of the highlights of the Sportsman GEN7000LP is that it offers quite a few options when it comes to power outlets for homeowners. With this generator you are going to get up to 4 X 120V 5-20R (household) outlets, along with 120-240V L14-30R, and also the 12V battery-charging outlet. It is important to note here that the Sportsman GEN7000LP also features circuit breaker protection for all of the power outlets and the unit has also been fitted with an Automatic Voltage Regulator (AVR) for extra protection. Apart from that, you also get an engine that's protected with a low oil shutoff.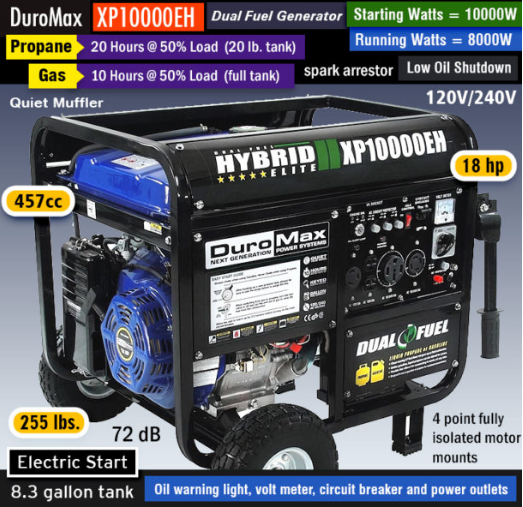 Features:
Runs on regular gasoline or liquid propane, a convenient alternative choice during emergencies when gasoline is scarce
Powerful 18 HP engine is able to accept high-wattage loads with ease
Equipped with low oil protection, AC and DC regulators and a spark arrestor, ensuring your unit will remain safe and in top operating condition
Designed to allow anyone to start and operate with electric and recoil start
Can be used for home standby power and job sites to a weekend with the RV
Allows user to get maximum power from each of the 120-Volt receptacles and to choose between operating at both 120-Volt and 240-Volt simultaneously or at 120 only with full power
Overview — DuroMax XP10000EH (10Kw)
The DuroMax XP10000EH (10Kw) features a durable and sturdy engine that is able to deliver a lot of power, considering its small size. That coupled with the high quality materials that have been used in the manufacturing of this unit and you have yourself a winner in the category of propane powered home generators.
Cast Iron Build
One look at the DuroMax XP10000EH (10Kw) tells you that this unit has been built to last and it probably will, depending on how you use it. Not only has this generator been built with high quality material, it also includes cast iron cylinder sleeves and bearings which are practically indestructible. The DuroMax XP10000EH (10Kw) also feature a four-point mounting system which is not only robust, but can drastically reduce the level of vibration when the generator has been powered on.
Duel Fuel Machines
Those who are familiar with DuroMax generators know that the 'EH' at the end of each model number of DuroMax generators stands for duel fuel machines, with the 'h' standing for 'Hybrid'. The DuroMax XP10000EH (10Kw) is by far, the most powerful home generator in their lineup.
Powerful Engine
The DuroMax XP10000EH (10Kw) features a surprisingly small engine which is just 439cc and delivers up to 18HP of output power, but delivers quite a punch in terms of power. With the DuroMax XP10000EH (10Kw) you can easily power up home appliances for up to six hours or more depending on the amount of appliances being used.
Circuit Breakers for Extra Protection
The DuroMax XP10000EH (10Kw) features individual circuit breakers for all of its outlets along with a main circuit breaker for added protection. There's also a large switch that allows the user to alter the unit's output from 120V to a 120/140V output. There's also a warning light that warns the user of low oil levels in the engine and the engine has been designed to shut off automatically when the oil levels reach its lowest point without causing any damage to the generator. There's also an analog voltmeter and a built-in AVR that helps protect the equipment from sudden spikes in voltage levels. And as if that wasn't enough, the DuroMax XP10000EH (10Kw) also comes along with a standard 1-year warranty, with an option to extend to 2 or 3 years.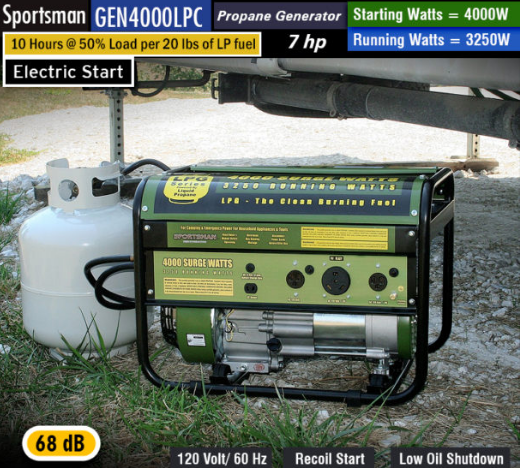 Features:
The generator runs on clean, quiet and efficient liquid propane gas (LPG), so you never have to worry about bad gasoline fouling the engine
The 7 hp, 4 stroke ohv, recoil start engine, delivers maximum performance
Run time = 10 hrs at 50-percent load per 20 -pound of lpg fuel, decibel rating: < 68 decibel, epa approved , carb approved
Air cooled, avr, low oil shut off, full power panel, engine shut off switch, overload protected outlets, 1-12-volts outlet and 2-120volts outlets
4000 surge watts/3250 running watts, 5 ft. regulator hose is included in box
Overview — Sportsman GEN4000LPC
The Sportsman GEN4000LPC is another option when it comes to propane powered generators that will be worth the investment. This unit offers a lower wattage as compared to the other units in this list, and is more suitable for smaller houses, or those households that have to power less appliances when the power goes off. That being said, with a decent output of 3250W, you will be able to power most of the appliances in your home for a few hours,  with the Sportsman GEN4000LPC.
Robust 4-Stroke Engine
The Sportsman GEN4000LPC comes with a powerful 4-stroke engine which only runs on propane, so it's cheaper compared to duel fuel generators. The power that the Sportsman GEN4000LPC is able to deliver will be more than enough to work the refrigerator, and other essential kitchen appliances, or light construction tools if needed. Expect to get up to 10 hours of power at 50% load on a 20 lbs. propane tank.
EPA Approved Generator
Those who are concerned about the environment will appreciate the Sportsman GEN4000LPC being approved by the EPA. This means that the unit can be used in California without getting you in trouble. Since the Sportsman GEN4000LPC is smaller than regular propane powered generators, it is also cheaper and ideal for homeowners who do not need to power too many home appliances. This also means that you are not going to have much of the advantages of other similar generators such as an electric starter, but you do get a recoil starter, which is even better, especially when starting the generator during those cold winter months.
Easy to Understand Control Panel
The control panel on the Sportsman GEN4000LPC is also easy to understand and should not be a problem to operate. The unit comes with 2 X standard 120V household outlets, a 120V 30A RV outlet, and a 12V battery charging outlet. You also get a basic 2-year warranty, but with the sturdy build and high quality materials we doubt you'll need it.
Bottom Line
Before you get a propane powered generator, it's important for you to understand that these units operate much in the same way except for being powered by a propane tank, rather than gas or electricity. But propane powered generators are much better for the environment since it produces lesser emissions as compared to other home generators. At the end of the day, it will all come down to the amount of power you need and the number of electric appliances you want to work in your home when the power goes off.