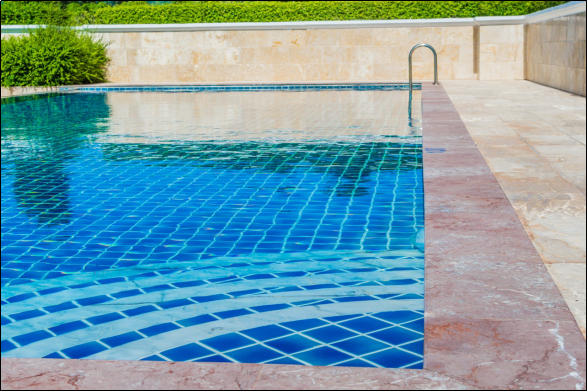 Who says swimming is a summer activity? Those who are lucky enough to have their own swimming pool can enjoy it all through the year thanks to inground pool heaters. Since purchasing a pool heater is going to be an expensive investment, you'd want to get it right the first time. This guide will help you get the perfect inground pool heater.
Factors to Consider
There are many factors to consider while purchasing an inground pool heater, mainly because the pool heater will not be keeping the water warm in your pool during the winter but also during the summer, when the temperatures drop at night and can be a problem if you like night swimming. Furthermore, heating a large mass of water is going to cost you both money and energy, which is why it's important to find the right pool heater. Here, we are going to take a look at the different factors that need to be considered while choosing an inground pool heater.
There are roughly 7.5 gallons of water per cubic feet. For a square or rectangular pool, you will need to multiply the length (this is in feet) of your pool x the width x the average depth x 7.5. The 7.5 will help in determining the volume of water your pool holds in gallons.To find the average depth of your pool, simply adding the depth of the most shallow point and deepest point and divide by two. A round pool the calculation is a bit different. You will need to multiply half of the pool width x half the pool width x 3.14 x 7.5. Multiplying half the pool width x half the pool width x 3.14 will provide you with the surface area.
Eco-Friendly
The term 'NOx' is used for mono-nitrogen oxide, which is produced when oxygen, nitrogen and hydrocarbons react with one another at high temperatures. When these oxides react with ammonia, moisture and other compounds, they produce nitric vapor, which can damage the lungs if inhaled. Inhaling the vapor could also lead to respiratory diseases, which is why it is important to purchase a pool heater that's been designed to decrease NOx emissions.
Types of In-Ground Heaters
Before selecting an in-ground pool heater, you have to keep in mind the size of your pool along with other factors, such as price of electricity of power for the type of pool heater you choose, along with the availability of that fuel in your neck of the woods. Here are a few types of in-ground pool heaters you can choose from.
Solar Power In-ground Pool Heaters
This is the crowd favorite at the moment, partly because of the energy efficiency of solar panels in a time when there is growing criticism of the increase in greenhouse gases. A solar powered in-ground pool heater is considered to be the cheapest option when it comes to pool heaters since it does not have the same operating costs as electricity or gas options. As the name implies, a solar powered pool heater utilizes the power of the sun which is a free source of energy, and does not give off any emissions, so it is also an eco-friendly option. That said, a solar powered in-ground pool heater will be of little use for homeowners who live in cold regions since the heater requires sunlight in order to generate the power that allows it to work and generate enough heat to keep the pool warm, during cold weather. This is why many homeowners who use a solar powered in-ground pool heater also have a backup pool heater.
Electric Pool Heaters
For small therapy pools or a spa, the electric option will be the ideal choice for an inground pool heater. That said, electric powered in-ground pool heaters require a huge amount of electricity to operate, which makes it a more expensive option. Apart from that, the reason why homeowners do not prefer electric inground pool heaters is because they are not only expensive to operate, but also expensive to install since they require heavy-duty wiring and circuit breakers for the large amperage. On the other hand, electric powered in-ground pool heaters are also eco-friendly since they do not release gases into the environment.
Electric Heat Pump
Electric heat pumps come in two different types. While some heat pumps use a water source, others use an air source for generating heat. The water source heat pumps can transfer heat from water while the air pumps can transfer heat from the air into the pool's water. Electric heat pumps are relatively inexpensive to operate, which is the main selling point of purchasing an electric heat pump. The electric heat pump is also considered to be eco-friendly since it does not release any emissions into the atmosphere, and these heat pumps are built to last. But, one of the biggest disadvantages of working electric heat pumps is that they are not as effective in colder climates since the electric heat pump also takes time to heat a large size pool.
Natural Gas In-ground Pool Heaters
In-ground pool heaters that are powered by natural gas or propane are considered to be the best option for homeowners since they are able to heat up the pool relatively faster as compared to other inground pool heaters. The only downside of using a gas powered inground pool heater is that they are expensive to operate, and may also not be as fuel efficient when compared to the other pool heater options. It also requires a professional to install the gas powered inground pool heater, which adds to the cost.
Wood-Burning Pool Heater
The wood-burning pool heater is similar to the outdoor furnace as in, they require powerful pumps to circulate the pool water while heating. There are basically two disadvantages of using a wood-burning pool heater, with the first being that it is not eco-friendly, since you are going to use burning wood to generate the heat required for the pool. You also need to keep adding the wood into the heater every hour to keep the heat generating process going.
At the end of the day, those homeowners who are living in regions that gets plenty of sunshine, then the solar power heater is the way to go, and will be a more convenient and economical option, while the gas heater comes a close second. Those homeowners who value minimum operating costs should go for the electric heat pumps or the electric pool heaters.
Top In-Ground Pool Heaters
Those homeowners who are searching for pool heaters will find that there are many to choose from, which can further complicate the decision-making process. To make your decision easier, here are some of the in-ground pool heaters that have made it to the top of our list.
Sta-Rite SR400LP | 400,000 BTU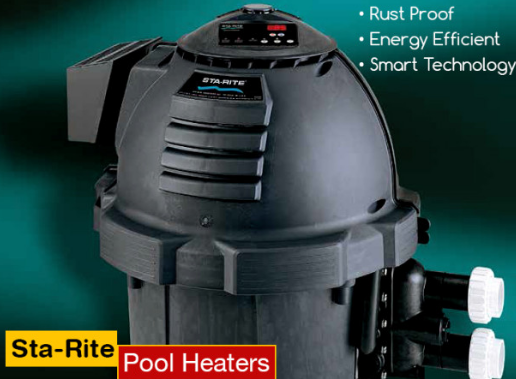 Features:
Top of the class in energy efficiency
Rustproof Housing – Sleek, matte black enclosure is made of Dura-Glas – a patented Sta-Rite material that takes care of the heat and protect against the elements
84% efficiency rating. Rated first in its class for energy efficiency
Lightweight
Environmentally Friendly, low NOx
Custom or Retrofit – Direct-connects to Sta-Rite System: 3 Mod Media filter or easily fits other systems
Ideal for retro-fit installations
Sta-Rite SR400LP — Overview
The Sta-Rite SR400LPis an ideal option when it comes to pool heaters simply because they can heat up water far quicker than other pool heaters. Besides that, the Sta-Rite SR400LP pool heater is also engineered for optimum performance and efficiency. When you purchase a Sta-Rite SR400LP, you can rest assured that you are going to get the best in quality and performance.
Multiple Options
The good news when choosing the Sta-Rite brand is that there are many models from which to choose from. The Sta-Rite SR400LP, just like others in the lineup is considered to be powerful, lightweight, compact, eco-friendly and also rust-proof, making them the preferred option for homeowners.
Sturdy Build
One of the reasons why many homeowners choose the Sta-Rite SR400LP is its incredible durability. Since pool heaters have to circulate thousands of gallons of water around the pool consistently, durability becomes one of the main factors when choosing a heater for your pool. Besides, a pool heater built from inferior materials can easily wear out and require expensive maintenance which only adds to the overall cost of the pool heater.
An Eco-Friendly Option
Another factor that makes the Sta-Rite SR400LPan attractive option to homeowners is that it's energy efficient. While other pool heaters need an outdoor draft hood, the Max-E-Therm Sta-Rite pool heater uses advance PMG burner technology, making the need for a hood obsolete. This not only makes the Sta-Rite SR400LPeco-friendly, but also reduces the costs as well.
Easy to Use
The Sta-Rite SR400LPheater features a six-position control panel, with easy-to-read LED temperature indicators. The heater also features not one but two thermostat controls and a built-in temperature safety lockout feature.
Hayward H400FDN H-Series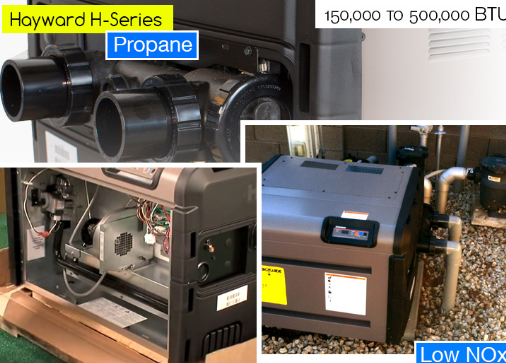 Features:
2″ x 2½" CPVC unions and plumbing fittings.
83% thermal efficiency for energy-efficient performance.
Environmentally responsible low NOx emissions to meet or exceed air quality emission standards in all Low NOx regions
Hayward Universal design for easy and versatile professional installation
Patented polymer header and bypass valve design for the ultimate in hydraulic efficiency and reliability
Standard Cupro nickel heat exchanger for superior value and reliability
Universal design independent left- or right-side electric, water and gas connections ensures the easiest and most versatile installation
Hayward H400FDN H-Series – Overview
If you are looking to upgrade you pool heater then the Hayward H400FDN H-Series is the right way to go. Hayward's lineup of pool heaters come in both gas and propane powered models. If you are looking for an environmentally friendly pool heater then the Hayward H400FDN H-Series will be the ideal option.
Great Features
Hayward has left no stone unturned in fitting its lineup of pool heaters with the best in technology and features to attract homeowners looking for pool heaters. The Hayward H400FDN H-Series features stainless steel burners, an insulated fire tile combustion chambers and corrosion resistant heat exchangers. The high insulation of the Hayward H400FDN H-Series helps maximize the BTU of this pool heater making it more efficient than many other pool heaters.
Convenient Interface
The Hayward H400FDN H-Series features an easy-to-read LED control panel that monitors the performance of the heater. The interface is easy to understand and required limited effort to monitor and operate. For instance, the ignition system of the Hayward H400FDN H-Series can be activated with the simple touch of a button. The Hayward H400FDN H-Series also features an advanced forced-draft system that moves air through the combustion chamber consistently, allowing it to imitate the weather fluctuations outdoors.
Dual Voltage
It's easy to see that Hayward has gone the extra mile in making sure that their lineup of pool heaters are able to appeal to the most people. The Hayward H400FDN H-Seriescan adapt to either 110V and 220V, which makes it compatible to more households. This means that the pool heater can be used in virtually any home that has a gas connection.
Pentair 460737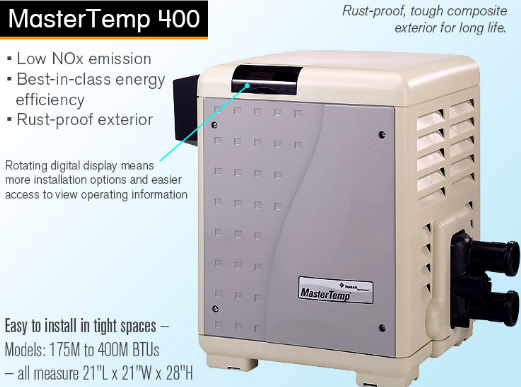 Features:
Rotating digital display makes it easy to view regardless of how MasterTemp is positioned
MasterTemp is ultra-quiet
Includes a variety of safety features, including: a water pressure switch that senses the pump is running to prevent overheating; high limit switches assure the heater turns off if water temperature exceeds factory set limits
Hot surface ignition (no pilot light) and push-button, digital controls
Eco-friendly, MasterTemp is low NOx emissions
Approved for installation on combustible surfaces
Pentair 460737 – Overview
Pentair has maintained a reputation for their quality and performance in their pool heaters. What makes the Pentair 460737 an attractive option for homeowners is that they are compact and can fit comfortably in small spaces. The pre-mixed system that this pool heater uses allows it to heat up the water faster than many other pool heaters.
Easy to Operate and Maintain
The Pentair 460737 may not look like much, but don't let that fool you. This heater has been fitted with the latest in heating technology and is incredibly easy to operate as well. The control panel of the Pentair 460737 features five led lights that displays the stats of the heater that is used as an indicator of whether or not the heater is in need of maintenance. The control panel also displays the water temperature so you don't have to bother about the system heating up.
Strong and Sturdy Build
The Pentair 460737 features standard copper material, while other models feature a combination of copper and alloy that makes it much stronger. The use of nickel also improves the overall corrosion resistance of the copper. For the average homeowner who is in search of a pool heater, the Pentair 460737 offers a nice balance between style and performance.
Low NOx Emissions
The Pentair 460737 has been 100% certified for a low NOx emission, which is nice to know. Those who are concerned about the environment look for systems that are energy efficient and safe for the environment as well. Keeping that in mind, the Pentair 460737 is surely appreciated.