Christmas is a popular occasion, celebrated every year by billions of people from all corners of the globe, therefore making it the biggest holiday each year. Christmas has a wide range of traditions, and among them are giving gifts, decorations and Christmas tree among others.
However, there are different kinds of gifts, each with varying levels of appeal among different people. The tradition of gifting started centuries many centuries ago and continues to rise in popularity with each passing year. Gifting is linked to the gifts that baby Jesus received shortly after birth. What you may want to buy or receive as a gift for Christmas may be different from what another person wants.
People worry about what they should give or receive during Christmas. This is because whatever you will offer will determine the perception that the recipient will have towards you. This makes it important getting prepared before choosing the best item to gift someone during Christmas season.
So, what do I want for Christmas this year? Here are a few things that would rank top of my list.
Christmas cannot be complete without watching a hilarious game. Although there are several games that are worth buying for Christmas, Watch Ya' Mouth Family Edition comes top. This is a laughter inducing and competitive card based game where groups of players try to read and interpret English in the midst of cheeky detractors. While doing the reading, hilarity ensues and the players present laugh their hearts out.

What I like most about this party game is that it is suitable for all family members above the age of eight. It is one of those games that you cannot avoid to watch while part of a gathering or when you have a family night. You will find the FDA approved mouthpieces to be quite functional while the cards are not only thick but also very durable.
I like the variety of phrase packs that are available. I have the freedom to choose family safe packs or those that are meant for adults only. Because of this, there is something for every person who is interested in having hilarious fun.
By the way, be warned that eye-watering laughter and stomach cramping is a common occurrence. One of the parts that you will find to be the funniest is where it asks you to learn and master it in seconds, play for hours and create lifelong memories with your family and friends.
Laughter is definitely a vacation in itself, right. Well, this is quite true. Anytime you start laughing, you forget about your tribulations, challenges, burdens and your cares. I like the fact that Watch Ya' Mouth Family Edition makes me laugh and forget the world around me. Learning the game is incredibly simple and highly hilarious to play.
After enjoying this game with your family, friends and associates, you can enjoy the hilarity that comes with it and shortens the distance between all of you. It provides a ridiculous way to strengthen friendships while figuring out what you are trying to say. It is a great bonding experience.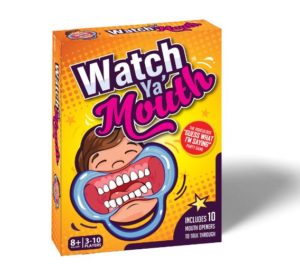 One of the resolutions that I have had is keeping fit this New Year. This is of great importance for my overall health and well-being. This is why a quality treadmill comes top in my priorities for Christmas gifts.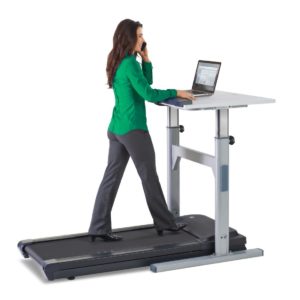 LifeSpan TR1200-DT5 Treadmill Desk is a fantastic gift item since its feature rich and helps me keep fit right in the comfort of my home. This treadmill is incredibly compact and does not occupy a bigger area. It offers hordes of control features such as silence beeps and switch units of measure among other useful features. Depending on how fast or slow I want my workout to be, I have the freedom to adjust the speed.
I find the console to be user-friendly. I can know the distance I have covered, the total calories burned, belt speed and the walking time. This is helpful, especially when I am working towards specific fitness goals.
Moreover, what I find to be more fascinating is the fact that I can synchronize my workout activity to my android phone or an iPhone. This has been made possible by a specific inbuilt app.
Moreover, I can use this item for many years, so I do not have to worry about returning to the shop to buy another one. This combined with the lifetime product warranty. Two-year warranty on the parts and three-year motor warranty, I can have the peace of mind that I have always envisaged.
With this Christmas gift item, I know I no longer have to go to the gym and can do my workouts conveniently within the precincts of my home. The pocket-friendly price and the free shipping that Amazon offers are other factors that make LifeSpan TR1200-DT5 Treadmill Desk a fantastic gift for me.
Amazon Echo |
I Want Music for Christmas
Amazon Echo ranks high in the list of items that I want to buy for Christmas. This device has the capability to listen to me and can definitely be my best virtual friend. I am ready to spend my hard-earned cash on this item.


It has the ability to listen to commands than anything else, thanks to its well-designed and highly effective audio system. You can hear Amazon Echo and it can hear you, making it one of the best virtual friends that you can have in your home and can assist in transforming how you live in ways that you never thought were possible before. Its inbuilt features get better every time and developers continue rolling out other new features that can help simplify your life when activated. In Alexa App, you can order a pizza without lifting any of your fingers. You can order your music to be streamed or can ask for audio books stored in an audible source. With it, you can control multiple alarms and timers in your home.
In every special occasion such as Christmas, people love to eat. However, not every good is ideal, as those that are considered health are the most preferable. More often, gift baskets that ship out of Amazon make a Christmas gift that any food lover would love. For me, I am always into the highest quality of gourmet food, delivered straight to my doorstep. I know there are gift baskets that are offered by reputable sellers, who take stringent measures in every process to ensure that their final product is of admirable quality. From growing of the diverse fruits, processing, and packing, they adopt strict procedures that guarantee excellence in quality for their esteemed customers. This way, I can have a great tasting, nutritious and a healthy gourmet.
I love the exquisite designs of the gift baskets, the box, and the premium ingredients that make part of this Christmas gift. The boxes are exquisitely designed to inspire awe and admiration and are hand filled with the highest quality delights possible.
I find the thought of well-stacked beautiful gourmet boxed filled with tasty and delicious treats and completed with a hand tied bow as the best way to have my Christmas gift delivered. Although this is a century old tradition, it continues to delight, with incredible improvements in designs and content being discovered with each passing Christmas.
This gift will not only be a great choice for me, but also my loved ones. I know I can offer them the ideal treat for the occasion, and help them celebrate in joy and happiness.
The fact that there are various sizes small and large that I can choose from makes a gift basket a commendable choice for me. Depending on how much push my search through, I should always be able to find out that suits my taste and personal preference. Always a product suits my requirements superbly well.
I'm delighted by the varied mix of fruits that gift baskets offer. The varieties of mangoes, apples, mandarins and oranges and an in-season fruit are something that anyone will find irresistible. The chocolates, roasted almonds, olive oils, tasty cheese and the presentation in a finely woven basket make it a perfect Christmas gift.
Water plays a crucial role in the everyday functioning of our bodies. Other than being an important transport agent, it helps in cooling the body, nourishing it and keeping all cells in shape. Because of this, I consider buying yourself or your loved ones a quality water bottle. One of them is the Hydro Flask's insulated water bottle that is manufactured from a high-quality stainless steel material and which don't have liners like their aluminum counterparts. The material that the bottle is made from is BPA free, so you have nothing to worry about on matters of your health. There are very few sports water bottles that are BPA free which you can find on the market today and this is one of the most popular choices at Amazon.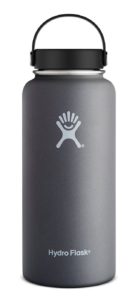 Just like other people, there are instances where I want my water to remain at a certain temperature for many hours. Hydro Flask's insulated water bottle offers me the freedom to choose cold, hot or room temperature, depending on what serves my requirements the most.
I find the lifetime warranty that all Hydro Flasks offer to be attractive. It features a double wall that is properly insulated, translating to a higher level of efficiency. The eye-catching design and the overall low weight are among the reasons why this product makes into the list of my Christmas gifts.
After going on long biking, which I religiously do twice a month, I find my cold water from this bottle to be of help. In addition, after hot yoga lessons, day out on the beach, road trips and office use, I find the bottle to be of enormous help.
Even when it is filled with ice, this water bottle will never leave puddles on your desk or drips on your shirt. The double wall helps in keeping drinks hot for six hours or cold for an entire day.
The outer part of this sports water bottle is coated with a finish that never sweats. This makes it ideal for any liquid, no matter its temperature. When this is combined with the lifetime manufacturer warranty that the bottle offers, you will find it easy knowing why this sports water bottle has won the admiration of many who want to buy a unique and functional Christmas gift.
Autel Robotics X-Star Premium Drone with 4K Camera, 1.2-Mile HD Live View & Hard Case (Orange)

| View The World

I am one of those who loves doing unique things during special occasions, including Christmas. Aerial imagery fascinates me and anything that would make me glance at stars would make an awesome gift. If any of my acquaintances buys me, which would be fine. Nevertheless, a high-quality aerial imagery drone with a camera would come top among my Christmas purchases.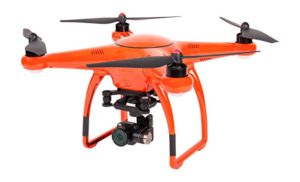 X-Star Premium Drone offers an exceptional high definition view range when compared to other brands. It also includes a larger memory card. I like the fact that it is packed in a well-designed and attractive premium case. It comes with all its accessories that include a charger, small propellers, intelligent batteries and spare propellers.
X-Star Premium Drone is quite easy to fly and it is designed for those who want to enjoy the fantastic aerial view. The three axis cymbal and the 4k camera has the capacity to record crystal clear and it is famous for taking quality photos, with the high definition live view for a distance of 1.2 miles. This drone is indeed ready to fly out of the box, and the user can fly it with or without the assistance of the free Starlink mobile app.
You will find it powered by dual GPS, GLONASS satellite navigation system, and an intelligent flight-control system. Whether it is indoors or at low altitudes, the drone will always stay safe.
There is no possibility of this kind of drone becoming erratic, even in scenarios where there is huge magnetic interference. What is more interesting about this drone is that it has an inbuilt SecureFly technology which helps in guiding the drone back home safely. This is great, as I will never worry about getting my drone getting lost any time.
My love for aerial viewing is made better by the fact that I can learn to fly X-Star Premium Drone with relative ease. I love how easy it is starting the motors, taking off, hovering and landing. I also find it easy directing the drone to return home using the single touch button that is located on the remote controller.
The inbuilt easy to learn LCD displays adds to the joy of operating it, as all critical in-flight information is always available to you. The display makes it possible for the user to view high definition videos from the Starlink Mobile App.