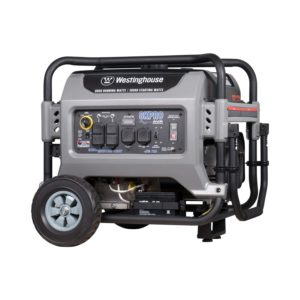 For ages, men resorted to rely on torches and lamps just to avoid the noise and mess typical generators tend to create. But, over the last few years, we have witnessed an evolution of these power churning machines. Westinghouse 8KPRO is essentially the most advanced form of generators that fit the bill, literally and figuratively. Compact and lightweight, 8KPRO gas powered portable generator with remote start capability delivers a quiet and convenient operation, at home or at a place of business.
If you are looking for an efficient generator to rely on, here is all you need to be sure about your decision to buy Westinghouse 8KPRO.
Why Westinghouse?
Let's be real, reliability is one of the key factors when it comes to buying a generator. It is something you can rely on in your darkest hour. So, choosing a product that carries the inherent credibility of its brand is the smart thing to do. In case of 8KPRO, this product and its performance is backed by Westinghouse reputation built over more than 130 years in the industry. No wonder it boasts a long list of features that includes many innovations you won't find in other products.
Solid Running and Starting Watts
The Westinghouse 8KPRO delivers a good 8000 running watts and 10000 starting watts, which makes it the best generator for residential as well as commercial use even if you are to use a couple of power tools. The generator offers both electric start as well as remote start capability, which is nothing short of a blessing on a chilly winter day.
GFCI Control Panel
8KPRO comes with a GFCI protected control panel, which makes it ideal for construction sites or commercial areas where the risk of electrocution is high. Even for residential use, it is an additional safety feature that is rarely found in other generators in this price range.
Powerful 420ccSD OHV Engine
This powerful engine resides in a cast iron sleeve that protects it from all the external factors that may hinder its performance in the long run. It also has a low-oil shutdown feature that further limits the amount of damage caused in case you missed reading the oil and gas level on the digital panel.
Gigantic 9.2 Gallon Fuel Tank
8KPRO features a 9.2-Gallon Tank that directly impacts its fuel efficiency by ensuring continuous operation of up to 19 hours at 25 percent load. If each refueling break costs you a penny, this one will help you save a couple of dollars every day.
Quick-Drain System
It is one of the many features that are included to make sure your Westinghouse 8KPRO keeps operating up to its optimal efficiency without frequent issues and troubles. The quick drain system allows you to completely drain the tank in order to remove any contaminant. This is the exact product the master orlando plumber uses on all his projects.
Quite Operation
One of the best reasons to buy Westinghouse 8KPRO is its lower noise level regardless of the power it packs in its compact body. It is equipped with Westinghouse's innovative muffling technology that keeps the noise under 68 decibels.
Conclusion
Westinghouse 8KPRO is definitely the best generator you can get for the price and size. It offers maximum fuel-efficiency and is extremely easy to install, operate, and manage. It is an EPA and CARB-compliant residential/commercial generator that comes with a 3-Year Limited Warranty and complete peace of mind.
If Westinghouse 8KPRO sounds like a generator that fulfills all your needs, buy from Amazon NOW.