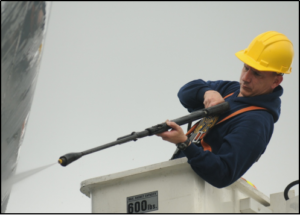 If you're wondering which is the best pressure washer of the portable variety available today, you have come to the right place. But first, what is a pressure washer anyway? A pressure washer is every handy-man's dream. It is designed to wash any surface with the help of pressurized water, replacing the hours of scrubbing that was once necessary to clean hardy surfaces, which also left the scrubber sore at the end of the day. But with the pressure washer, those days are past now.
A pressure water can be used to clean metal structures, wooden decks, brick walls, driveways, tiles, pools, concrete surfaces and even outdoor furniture. Using a pressure washer dramatically reduces the workload in a way that was not possible before. Purchasing a power washer makes sense considering the many benefits it has for a professional or a handyman who likes to go the DIY route. Portable power washers come in two types, electric and gas.
An electric power washer has a pump and an electric motor. This means that there's no need to deal with the exhaust fumes and the loud noise of a gas-powered power washer. Another benefit of using an electric power washer is that they require less maintenance as compared to their gas powered counterparts. The small size of the electric power washer means that they are a more portable unit, making them easier to move and maneuver. The small size also means that they are easier to store once the work is completed. While there are less electric models of power washers available in the market, more people prefer this option since it is the cheapest. Electric power washers are great for smaller tasks, and pose less risk of damaging the surface one's working on.
The gas power washer uses a pump, an engine and a nozzle to concentrate the flow of water, producing a high pressure spray which is sixty times more powerful than your everyday garden hose. The power of the water generated by the gas power washer is twice as much of the electric powered washer which makes them ideal for larger, more demanding jobs to remove dirt and grime from surfaces. Unlike electric power washers, gas powered units are not short in supply and are easily available. On the other hand, while gas power washers deliver an immense amount of power, they can also cause a great deal of problems when used on particular surfaces. In other words, a gas pressure washer can damage the surface being cleaned which is why extra care is required. Besides that, gas pressure washers also produce a lot of fumes and a loud noise that is disturbing to the neighbors. Furthermore, fumes can also cause health issues if the proper protection is not taken.
When considering which type of pressure washer you would like to buy, it all boils down to what it is going to be used for most. More difficult jobs will require the larger gas powered pressure washer while smaller jobs can be carried out by the electric powered pressure washer. Before you buy a unit, first determine the nature of the tasks you need to accomplish to buy one that suits your needs. At the end of the day, a pressure washer can take a load off the user, but only if you choose the right one. If you've never used a pressure washer, it's a good idea to do some research on the various pressure washer units available in the market. Pressure washer reviews are a good place to start, so here you're going to find out more about pressure washers.
Best Portable Pressure Washers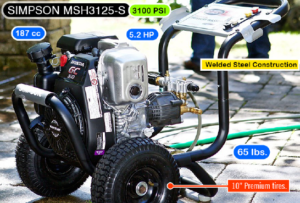 Features:
3100 PSI @ 2.5 GPM
HONDA GC190 engine
10″ Premium pneumatic tires
Maintenance-free OEM Technologies axial cam pump
MorFlex Hose 1/4″ x 25′ is non-marring, kink and abrasion resistant and is
equipped with threaded M22 connection
Ergonomic spray gun designed for comfort and control
5 Quick connect nozzle tips: 0°, 15°, 25°, 40° and Soap
Heavy-duty welded steel construction frame
Overview
The SIMPSON Cleaning Megashot MSH3125-S is a lightweight pressure washer that has an output of 2.5 GPM (gallons per minute) of pressurized water with an impressive 3100PSI (pounds of force per square inch). The engine in the SIMPSON Cleaning Megashot MSH3125-S comes courtesy of Honda so expect a splatter of oil now and then. The engine is nonetheless powerful and delivers in full. The hose in the Megashot does have a short range which measures at just 25 feet with threaded connections that keep the unit, hose and the gun properly secured. The 16-inch steel wand offers a good grip. You also get nozzle options of 0, 15, 25, and 40 degrees as per standard SIMSON fare. The heavy-duty steel frame offers top-notch stability and the 10-inch pneumatic tires are sturdy and strong, which makes moving this unit around a breeze.
SIMPSON Cleaning PS4033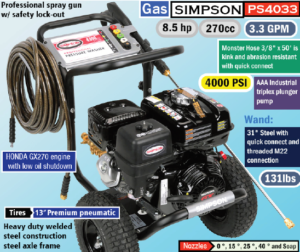 Features:
4000 PSI at 3.3 GPM
HONDA GX270 engine with low oil shutdown / 270cc / 8.5 hp
AAA Industrial triplex plunger pump
Monster Hose 3/8″ x 50′ is kink and abrasion resistant with quick connect
Ergonomic spray gun designed for comfort and control
5 Quick connect nozzle tips: 0 °, 15 °, 25 °, 40 ° and Soap
Heavy duty welded steel construction steel axle frame
13″ Premium pneumatic tires
Overview
This is another powerful pressure washer that deserves a spot on this list. The SIMPSON Cleaning PS4033 boasts of a 3.3 GPM and 4000 PSI, making it a more powerful unit. Featuring the Honda GX270 engine, this pressure washer is idea for heavy duty jobs. The engine also has a low oil shutdown for added protection, which makes it efficient and effective. With a longer 50-foot hose that's steel braided for extra sturdiness and quick connect technology, the PS4033 is able to reach hard to get places with ease. The pump, hose and gun are all connected without hindering the performance of the unit. Even the wand is extendable to 31 inches with various Simpson nozzles and soap injection integration. The SIMPSON Cleaning PS4033 also has 10-inch pneumatic tires making it easy to move around. The steel axel frame means that it's built to last.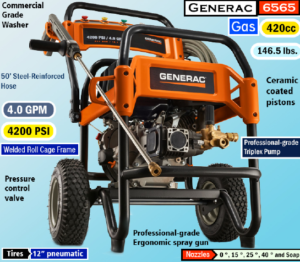 Features:
Pro-Grade Triplex Pump
Powerful 420cc Generac OHV
Low-Oil Shutdown Sensor
Oversized Pneumatic Tires
Pressure Control Valve
Brass Quick Change Fittings
50' Steel-Reinforced Hose
Professional Spray Gun
Welded Roll Cage Frame
Detergent Siphon Hose
Five Quick Click Nozzle Tips Included
Overview
The Generac 6565 offers an impressive 4.0 GPM with 4200 PSI with its 420 cc Generac OHV low-oil shutdown engine. The triplex pump has been designed with heavy-duty tasks in mind and has been built to last. With a 50-foot steel-enforced hose you get plenty of coverage and makes reaching areas easy while cleaning. One of the main features that sets the Generac 6565 apart from the rest is its professional built spray gun which comes complete with adjustable side handles for more steady grip and ample cushioning to reduce fatigue.
The pressure washer features a pressure control valve that can be adjusted according to the job. There's also a welded roll cage frame for better protecting and the addition of oversized pneumatic tires which makes moving the unit around ease. This is one of the larger pressure washer units available in the market and is a good value for your money.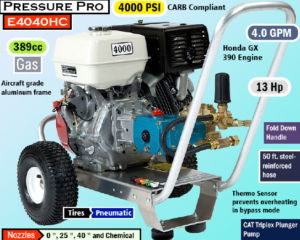 Features:
Powerful 13 Horsepower GX390 Honda Engine
CAT Brand Triplex Plunger Pump
50′ high pressure hose w/quick connects
Thermo Sensors
Professional quality insulated gun and wand
CARB Compliant
Revolutionary aircraft grade aluminum framewith dual handles (no welds to fail)
50 mesh inlet filter
Adjustable pressure unloader
Low oil shutdown
Pneumatic tires
Dual padded shock absorbing feet
3/4″ cold-rolled steel threaded axle
Commercial/Industrial grade engines
Lifetime frame warranty
Chemical injector
Overview
With up to 4 GPM and 4000 PSI the Pressure Pro E4040HC is ideal for medium to heavy jobs. The Pressure Pro E4040HC packs a 13hp gas powered Honda GX 390cc engine under the hood. The fuel tank can fill to 1.6 gallons with a recoil starter. The CAT pump with inbuilt thermo sensors are a nice touch to the Pressure Pro E4040HC which gives it that added oomph. This pressure washer has a 50-foot hose that's protected with reinforced steel and is attached to the spray gun with a quick connect technology. The wand features a firm grip handle and can be adapted with no less than five tips, with the turbo tip sold separately. The aluminium frame is robust and sturdy, and is easy to move despite weighing 125 pounds.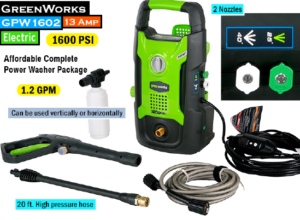 Features:
1600-PSI and 1.2-GPM
13-amp motor
Axial cam pump
2 pro-style tips with quick connect, including a 40° and Turbo nozzle
Interchangeable wand
Onboard storage
Attachable detergent tank
Overview
The GreenWorks GPW1602 is on the smaller side but still packs a punch. With a 1.2 GPM and 1600 PSI, this pressure washer offers a high quality build and decent cleaning capabilities. The 20-foot high pressure hose is not long, but it does include a soap applicator, which is a nice addition. The double-nozzle tips allow you to select the correct spray type of washing or a lower pressure when cleaning delicate objects or surfaces. The GreenWorks GPW1602 also makes it easy to switch between the Turbo nozzle and the 40-degree tip. When it comes to the size, cost and capabilities the GreenWorks GPW1602 proves to be a good investment. With its portable and convenient size, the GreenWorks GPW1602 is easy to store and its 5-inch walls makes it effortless to transport from one location to the next. While this unit does not feature any high-tech features of the higher price point units, it does have some nifty features that make using the GreenWorks GPW1602 easier, such as the detergent tank that's attachable and makes it easy to keep the soap close to you. The 35-cord power cord is also in line with the GFCI and offers ample movement while cleaning.
The attachable detergent tank is a plus which allows you to keep soap close at hand and the 35 foot power cord with inline GFCI provide ample movement in the area you're cleaning.

Features:
Powerful 14.5 amp motor generates up to 2030 PSI/1.76 GPM
Pressure Select Technology
5 Quick-Connect spray tips
TSS (Total Stop System) – automatically shuts off the pump when trigger is not engaged
Includes an extension wand and a 25-foot high pressure hose,
Power cord with GFCI protection, garden hose adapter and needle clean-out tool
Onboard hose reel keeps 25-ft high pressure hose
Easy-glide wheels for maximum maneuverability
Overview
This is another fantastic option when it comes to portable pressure washers. The Sun Joe SPX4001 features a 14.5 amp motor with a pressure power of 1.76 GPM. Featuring two pressure options, the 1450 PSI for low pressure and 2030 PSI for high pressure flow the Sun Joe SPX4001takes the guessing out of cleaning smaller and more fragile objects or surfaces, while the higher PSI option can be used for other larger and dirtier surfaces. The Sun Joe SPX4001 comes along with a 20-foot hose and up to five different degrees of quick connect spray nozzle tips so you can easily switch between nozzles while cleaning. The 35-foot power cord is also a nice addition to the Sun Joe SPX4001, which makes functionality easier. The onboard hose reel makes it easy to store away when not in use. While some have complained that the hose reel of the Sun Joe SPX4001 is a bit chunky, another issue with the unit has been found of the lack of warm water option, which has been said to be a problem for some people. But this is certainly not going to be a deal breaker for the Sun Joe SPX4001 since the pressure washer unit is affordable, handy and versatile, which makes it a winner.