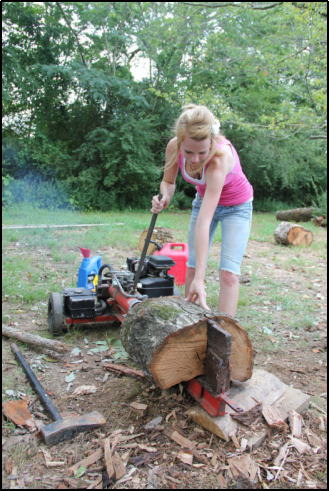 "If one has cut, split, hauled, and piled his own good oak, and let his mind work the while, he will remember much about where the heat comes from, and a wealth of detail denied to those who spend the weekend in town astride a radiator." — Aldo Leopold
Not sure what Aldo would think of using a 5-ton log splitter. But, the man did have a point. It's true that nothing quite compares to the warm and homely glow of a fireplace as the cold winds of winter blow outside. However, many people simply do not have the time of carrying out the long and arduous work of having to chop wood. To keep the spirit of old Aldo alive, luckily we have log splitters that take some of the strain of having to chop and split logs for the winter. While there are many options when it comes to log splitters available in the market, here we are going to review only a few that are worth investing in.
All of the 5-ton log splitters mentioned here come with their share of pros and cons, which you should take into consideration when selecting a powerful and reliable 5-ton log splitter
This is a valid question that is seldom asked by those who are thinking about buying a log splitter. The large log splitters that are gas powered normally range between 25 to 35 tons. But, not everybody needs such big machines, especially if they don't have much wood to split, which would mean their investment in a 25 or 35-ton log splitter was nothing more than a waste of money. In these situations, a more suitable option would be going with a 5-ton log splitter. But, then again, the real question will be the type and the size of the wood you want to split, which will ultimately determine the size of the log splitter you should purchase.
For most homeowners looking to prepare firewood for winter, the electric powered log splitter is a more affordable and convenient option as compared to the larger gas-powered log splitters. Apart from that, electric powered log splitters do not produce the extremely loud and unbearable sound as the larger, more powerful, gas-powered log splitters that are used to split harder wood types on a much larger scale. When it comes to the 5-ton, electric powered log splitters, they don't produce much sound and don't require the same amount of maintenance as the large, gas-powered models.
A log splitter uses a hydraulic ram which it uses to force a wedge into the log that needs to be split. The force in which the ram is pressed against the log is measured in tons, hence the name '5-ton' or '35-ton' log splitters. This is used to find out the amount of weight pressing down on the wedge if it were in a vertical position. Although, many log splitters are operated in a horizontal position, some can also be operated either horizontally or vertically, depending on your personal preference and what you feel is easier while splitting wood.
However, the position in which the log splitter is used really does not make much of a difference, since the hydraulic ram will still be pressing down on the wood with a gravitational force equivalent of 5 tons. The only difference being that the log splitter produces this amount of force using hydraulic pressure. When you consider the power of a log splitter, a 5-ton axe of 35-ton axe would be out of the question and simply impractical to even think of. On the other hand, log splitters are able to deliver the same amount of pressure necessary to split wood, making the act of chopping wood more convenient and less of a chore.
Type of Wood for the 5-Ton Log Splitter
While it is not determined exactly how much tons of pressure is needed to split a particular kind of wood, a 5-ton log splitter will do fine when splitting dry and soft wood, not more than 10 inches in diameter, while harder wood types will require more pressure, which could be as much as three times more than what is required for splitting soft wood.
The amount of moisture also plays a big role in the processing of splitting wood. Normally, it is recommended to leave logs which are to be used for the fireplace to cure for about a year before it can be used to burn. The same also goes for splitting logs with less power. Those logs that have been left to dry properly for a while will be more brittle and thus, split easily. That said, splitting wood up to 6" thick is possible when splitting pine or similar wood. Another factor that is to be considered is whether or not the logs have any knots on them, which has a direct effect on its ability to split. Oak, being a hard wood, can split easily up to 4" and you may be lucky if you are able to get through logs that are 6" thick. Going any thicker is not recommended with a 5-ton log splitter. This is also assuming that the logs have been dried properly before splitting.
One of the major factors when it comes to the length of wood which can be split is the length of the table, which is normally around 20" in length. While the 5-to log splitter will not provide you with the power necessary to split hardwood, or large amounts of wood, it is able to fulfill its requirements for most households since it's a reasonable size. The wood that's been split will also burn better and give you more control over the fire once the cold winds blow.
The final factor that needs to be taken into consideration is the price. This too, depends on the type of wood, and the amount of wood that you will be splitting. While a large amount of harder wood will require a large, gas-powered log splitter, the 5-ton log splitter will do nicely when it comes to splitting soft wood in smaller quantity. A good 5-ton log splitter will cost you around $250 to $500, and will be worth the investment in the long run.
If you're in the market for a 5-ton log splitter, then the price and the amount of logs that you will need to split should be considered. By putting in a little bit of effort, you should be able to reach a conclusion on the perfect log splitter for your needs. At the end of the day, a log splitter is way more efficient than having to do it the old-fashioned way, that is, with an axe. The 5-ton log splitters mentioned here should get you an idea of the kind of log splitter you should go for when purchasing a 5-ton log splitter.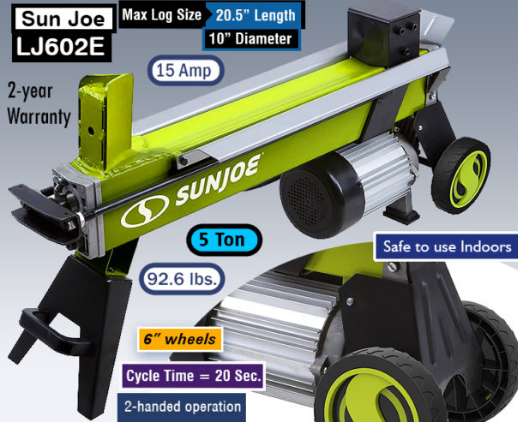 Features:
Motor: 15 AMP
Maximum splitting force: 5 ton, maximum log size: 10″ x 20.5″ logs, maximum log length: 20.5″ and maximum log diameter: 10″
Weighs 92.6 pounds
Comfort grip handle and easy portability: 6″ wheels
Dual handed safety switch system
Cycle time: 20 sec
ETL approved with 2-year warranty
Sun Joe LJ602E – Overview
The Sun Joe LJ602E is considered to be the cheapest option in the 5-ton range of log splitters. The reasonable price tag of the Sun Joe LJ602E makes it an excellent choice for a good quality log splitter that's powerful and reasonably priced. While this log splitter is only recommended for light duty work, it offers great value for money because of its high-efficiency, low maintenance and affordability.
Sturdy and Durable Build
One look at the Sun Joe LJ602E is enough to know that this log splitter has been designed to last. Built from high quality materials, the Sun Joe LJ602E delivers a lot of log splitting force, while its sturdy build and robust components makes sure everything stays in place.
Power Hydraulics
The Sun Joe LJ602E features a 1-gallong hydraulic capacity, which is more than enough when you need to go through 6" logs. The powerful 15A motor and 5 tons of splitting force makes quick work of splitting soft wood. According to Sun Joe, the LJ602E log splitter can split logs ranging in 10" in diameter and lengths of 20.5" with relative ease.
Ideal Height and Useful Safety Features
The Sun Joe LJ602E is the ideal height, even for tall guys. Weighing at 97 lbs., the Sun Joe LJ602E is also surprisingly lightweight, and the two large wheels make it easy to move around and store away once you're done. The Sun Joe LJ602E also has smart safety feature that requires the operator to use both hands while using the log splitter. This means holding on the 'Run' button while you feed it the wood. This is a smart feature to have in a log splitter since it avoids any unfortunate accidents. There's also an overload reset button that protects the motor of the Sun Joe LJ602E. In the end, this is an extremely easy log splitter to have and operate. It's affordable, takes up less space, and offers a good amount of splitting power, and it also comes along with a 2-year warranty that sweetens the deal.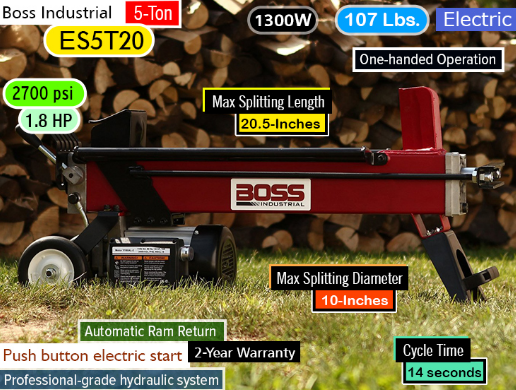 Features:
Durable 1.8 HP Electric motor
One handed operation,
Automatic ram return.
Lightweight and portable
2-year residential,
180-day commercial warranty
Boss Industrial EC5T20 — Overview
If you want a durable and reliable log splitter, then the Boss Industrial EC5T20 is one of your best options. This log splitter has much to offer in terms of power and design. From the inclusion of the sturdy and supportive stand to the robust, steel-rimmed wheels, everything about the Boss Industrial EC5T20 shouts high quality and durability. At first glance, this log splitter seems to beat the other log splitters by a mile, but then again, this can't be said for sure since it would take years to try out all the log splitters to find out which one is truly the best.
Powerful Electric Motor with Lots of Cutting Force
The Boss Industrial EC5T20 has a powerful 1.8 HP electric motor that is up for the task of splitting wood. Although, the 5-ton log splitter does not have the same two-had safety feature as the previous version, using one hand is just as good and is certainly not going to be a deal breaker for those in search of a 5-ton log splitter.
2-Year Warranty
The Boss Industrial EC5T20 comes with the 2-year warranty, which is good enough considering many log splitters don't provide warranties that are as long. Apart from that, you also get a 180-day commercial warranty, which is a neat addition since the log splitter does have 'Industrial" in its name. The high level of quality and amount of time that has clearly been taken to design this unit doesn't make it likely that you are going to need the warranty any time soon. Still, it's nice to have!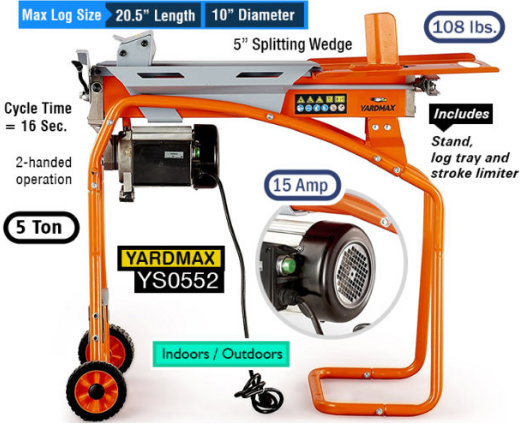 Features:
Powerful, 5-ton RAM force to get the job done fast
Stand, log tray and stroke limiter included
Stand ensures a stable work surface — no squatting or bending over to operate
Log tray ensures split logs lay safely rather than falling to the ground
Stroke limiter will shorten the amount of time it takes to split shorter logs
Two-handed operation puts operator safety first
6″ wheel diameter and lightweight design
Portable and can be operated indoors in the winter
Log capacity — 20.5″ in length and 10″ in diameter
Short cylinder cycle time — 16 seconds
None or minimal assembly required
No assembly required for bench top unit — simply clip on the wheels and start splitting
Minimal assembly required for stand option
YARDMAX YS0552 — Overview
Yardmax yard tools have always been right up there in terms of quality and affordability. A must-have for many homeowners, the YARDMAX YS0552, 5-ton log splitter offers just the right balance between quality and power, making it perfect for the DIY homeowner. While this unit is going to cost you a bit more in comparison to the previous two log splitters, it offers so much more in terms of value for money in the long run.
Sturdy Build and Durable Stand
The YARDMAX YS0552 offers the very best in build quality which is apparent from its robust build and design, which promotes efficiency while splitting wood. The extended iron stand makes for a comfortable working height, that doesn't strain your back. You can also remove the extension legs if you want to work at a lower height. And that's not all, the YARDMAX YS0552 also allows you to adjust the cylinder stroke. If you're splitting logs that are short in length, you can set the ram so that it returns sooner, reducing the cycle time of working the YS0552.
Two-hand Operation for Added Safety
The YARDMAX YS0552 features a two-hand safety feature which we are seeing more and more in log splitters. This minimizes the chances of any fatal accidents while using the splitter. The YARDMAX YS0552 also has a hydraulic capacity of 0.93 gallons. It weighs around 108lbs, and the 10" wheels on the YARDMAX YS0552 make it easier to move around the yard.
Ending Note
If you are in the market for a reliable log splitter, then these three brands are extremely well made and will offer you the best value for your money. These 5-ton log splitters also come with warranties that will give you peace of mind if needed.