This is a superior performance gas grill that offers generous cooking space. There are five burners, four primaries and one on the side, which deliver an aggregate heating power of 60,000 BTUs. This flame roasting energy is enough to cook every kind of a food that you can think about and deliver a great result all the time.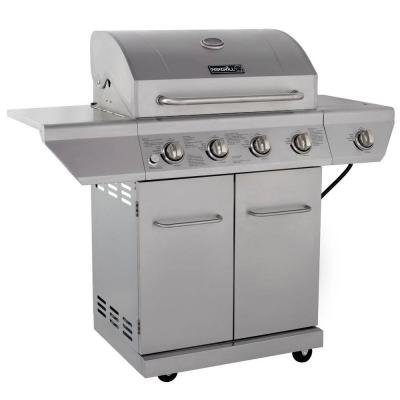 Nexgrill 4-Burner Propane Gas Grill Features
Cooking grids
The main deck Nexgrill 4-Burner Propane Gas Grill has stainless steel cooking-grits that features seven millimeters crossbars. Under the se cross bars is a heating system that ensures that heat is distributed   all over the firebox. These grids help keep heart and ensure your foods are properly cooked.
Electric ignition and flame tamers
You will appreciate the convenient and easy to use flame tamers that ensure there are no flare ups. This also helps to bring about unique taste in the foods that you are preparing. The electric ignition ensures that you can fire up the grill fast, so that you can start grilling your food without wasting time.  The upper level has a warming rack that keeps foods toasty, while also providing a place for heating buns.
Movable
We all want to cook for our friends or enjoy tasty meals while enjoying seaside breeze, right? Nexgrill 4-Burner Propane Gas Grill has got casters that are large enough and which can be pushed around with ease. The gas grill moves over grass, pebbles and a variety of other surfaces with ease. Also available is a thermometer that ensures that you can regulate the temperature of the cooker.
Cooking space
The amount of cooking space in Nexgrill 4-Burner Propane Gas Grill is 462 square inches, being powered by four burners that supply 12,000 BTUs of cooking power each. The warming up rack provides you with an opportunity to keep your finished meals warm while you are preparing other meals.
Powerful burners
Each of the four burners  emit 12,000 BTUs  which is   quite decent, so you can  enjoy  tasty and  well  cooked meals all the  time. Depending on how much heat you want, you can regulate the   temperature using the gauge that has been provided.
Electronic ignition
This superior gas grill has an electronic igniter that gets rid of labor intensive startups. Moreover, the cooker has an easy to clean surface, so you can clean it easily after you are done with your cooking. The cooking area is non stick and can be wiped out with relative ease.
Pros
·         60,000 BTUs in total from four burners
·         A side burner is available
·         627 square inches of primary cooking area
Our Verdict
Nexgrill 4-Burner Propane Gas Grill in Stainless Steel with Side Burner is a beautifully designed cooker that offers superior and reliable performance. The gas grill is incredibly easy to assemble and highly portable, thanks to its caster wheels. It's designed for superior performance, functionality and safety. The instructions for assembly and use are detailed and clear.
Some cookers are made better than others. There are those that are structurally superior, while others are functionally superior. However, awesome results are achieved when you combine a gas grill that delivers both functionality and durability. Even Embers 5-Burner Propane Gas Grill is definitely  an option  that  comes loaded with features that  include  superior heat, stainless steel burners, heat tents, integrated  button ignition that ensures  every burner lights up  effortlessly and a built in thermometer for  precise temperature management  before and  when you are  cooking your food. The available rubberized   wheels make it easy to move the gas grill from one place to another.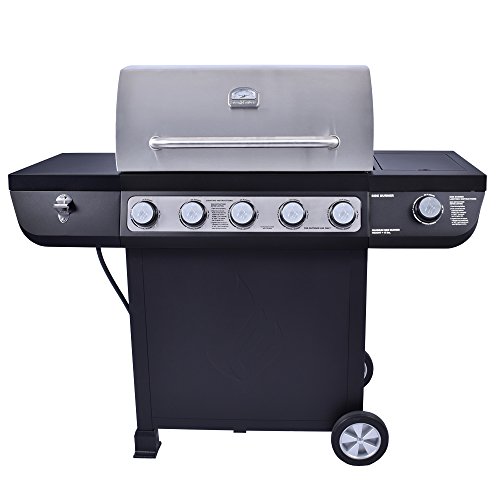 Even Embers 5-Burner Propane Gas Grill Features
This cooker with side burners is powerful and you can expect it to serve you better no matter the place. You can use it in your patio, backyard, on the sea shore or when you are camping somewhere with your friends. This is made possible thanks to the large wheels that make mobility easier.
Burners
The main burners are made of stainless steel and offer an impressive 9,600 BTUs of heat. This heat dissipates uniformly across the entire cooking surface, making it possible to achieve well cooked meals all the time. You will appreciate the fact that the heat is emitted consistently and you can set the   temperature depending on the food that you are cooking. These burners are durable and are backed by a decade of manufacturer warranty.
Spacious cooking area
This Even Embers 5-Burner Propane Gas Grill has 715 square inches of cooking space, and out of this, 502 square inches is in the main or primary cooking area. This cooking surface is decent enough and you can make food enough for a small party or your family.
Cooking grates &heat tents
There are durable Porcelain-coated-Cast Iron-Cooking Grates that ensure you get well cooked meals all the time. These grates, once they get heated can keep heated for the longest time possible. With the   available heat tents, there is no doubt that you will always have enough heat distributed all over the cooking surface.
Pros
Durable and fully welded  steel lid
9,600 BTUs from the main burner and 12,000 BTUs from the side burner
Cast iron-grates for superior heat retention
Our Verdict
If a reliable and feature rich gas grill is all you are on the  look out  for, then Even Embers 5-Burner Propane Gas Grill with Side Burners should  be the  bets  choice for you. This gas grill offers moderate, but enough heating power from the main and also the side burner, while the cooking grates ensure high levels of heat retention and superior performance. The large cooking area is one of the reasons why this gas grill appeals to most people. With this gas grill, you have value for money's worth.
Nexgrill Deluxe 720-0896B Gas Grill
The demands for high quality cookers by grilling enthusiasts has pushed manufacturers of gas grills  to think out of the box and come up with cookers that meet the demands of the everyday grilling enthusiast. Nexgrill Deluxe 720-0896B gas grill has six stainless steel burners and it's among those that have been rolled out due to the need for high heating gas grills by outdoor grilling enthusiasts. There is need to churn out perfectly cooked meals, but at a fraction of the time which it took before. With a massive grilling space of 786 square inches, this gas grill can prepare several meals all at once. You can feed a hungry lot of party goers with this super heated gas grill and they will all love the flavorful foods that come out of it.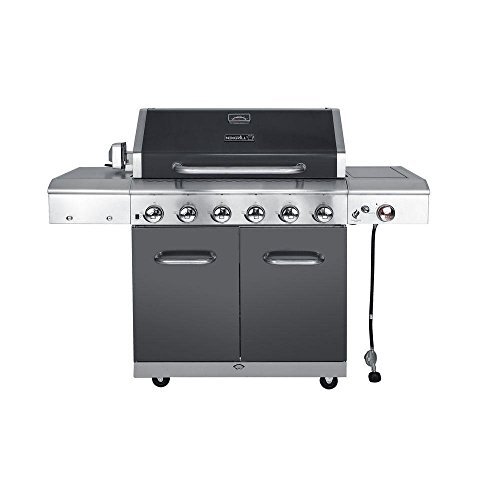 Nexgrill Deluxe 720-0896B gas grill Features
Six burners for extra heating power
This gas grill has six powerful burners that are made of stainless steel material and which provide a massive 10,000 BTUs of heat each. This makes it a total of 60,000 BTUs of heat. These burners are tubular, and are not connected in the middle, making it rust free and durable. The sear burner offers15, 000 BTUs which guarantee a fantastic cooking experience.
Cooking space
Nexgrill Deluxe 720-0896B gas grill offers a generous cooking area those include564 square inches of primary cooking space and more than 200 square inches of warming space. You can grill meat, cook vegetables, and make burgers and a wide range of other meals with this awesome gas grill.
Electric ignition
When you want to turn on Nexgrill Deluxe 720-0896B gas grill, the battery ignition will come handy. This reduces the struggle that you go through to get the flame on and start grilling.
Pros
The cooking area is large and  impressive
Excellent heat output
It includes a rotisserie kit
Made of light components
Durable and sturdy construction
Our Verdict
Nexgrill Deluxe 720-0896B gas grill is a dependable gas grill that is built to last. It includes features that make grilling worth trying. From the large cooking area, light components, easy to clean parts and battery ignition, you will find this gas grill to be one awesome option to consider.
Royal Gourmet Classic 6-Burner Stainless Steel LP Gas Grill is among the best gas grills for those who want to entertain large crowds on everyday basis. With a cooking power of 71,000 BTUs, a side burner and spacious working area, this gas grill seals enough of the juice in your freshly cut meat, producing a tasty and well cooked meal all the time. Also available is a foldable lid and enameled cast iron grates. Heat is distributed evenly in the cooking surface, so you can always churn out well cooked meals. The full stainless steel construction makes it rust proof while also offering it a luxurious appearance. The large grease-tray is easy to clean. After you are done with your cooking, you can wipe it out and leave it clean for your next cooking session. There is an electronic ignition system that allows for easy startup. The built in thermometer allows for proper temperature control, and if you want a space for your seasoning, the large metal side will offer the space which you badly require.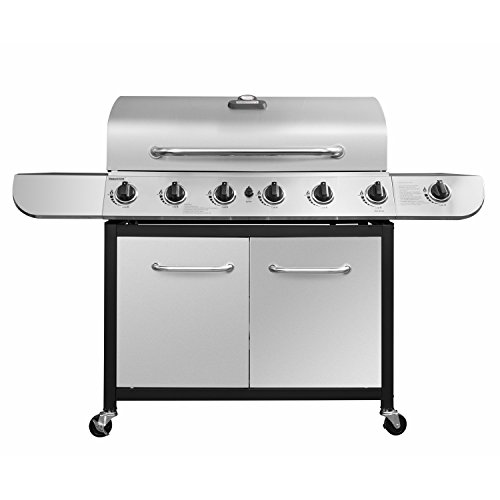 Royal Gourmet Classic 6-Burner Stainless Steel LP Gas Grill Features
Powerful burners
You will appreciate the massive power that comes out of the five stainless steel burners that produce10, 000 BTUs each. With this kind of heat, you can rest assured that you will have enough heat to grill whatever food that you think about. Whether its veggies or any kind of meat, this gas grills should satisfy every grillers demand.
Cooking space
The 776 square inches of both primary and secondary cooking space provides enough area where you can prepare your different kinds of meals. The secondary area keeps your meals warm all the time, while the main meals are getting ready. There are metallic side shelves that provide you with additional surfaces where you can prepare for your cooking or handle some important cooking accessories.
Double layer lid & built in thermometer
This Royal Gourmet Classic 6-Burner Stainless Steel LP Gas Grill has a double layered lid that helps to retain heat. The thermometer that is incorporated into the lid makes it possible for you to measure the cooker's temperature to a higher level of precision. As a matter of fact, different foods require diverse temperatures, so you can adjust the burners to offer direct or indirect heat depending on your unique requirements.
Electronic ignition
We all want a gas grill that can be started effortlessly, right? Royal Gourmet Classic 6-Burner Stainless Steel LP Gas Grill is definitely one of them, thanks to the built in electronic ignition  system. You can achieve a quick start with a simple push.
Removable grease tray
The removable grease tray in Royal Gourmet Classic 6-Burner Stainless Steel LP Gas Grill makes it convenient when cleaning.
Pros
Lockable casters for mobility
Electronic ignition
Double layer lid and  a built in thermometer
Removable grease tray
Superior burners
Our Verdict
With incredible features   such as  superior powers that produce   a  total of 71,000 BTUs, removable grease tray, double layer lid and lockable  casters  for mobility, Royal Gourmet Classic 6-Burner Stainless Steel LP Gas Grill is indeed  an attractive choice for  every grilling  enthusiast. This cooker has   functional and durable parts and guarantees that you will enjoy flavorful delicacies consistently. The price is awesome for the features offered.